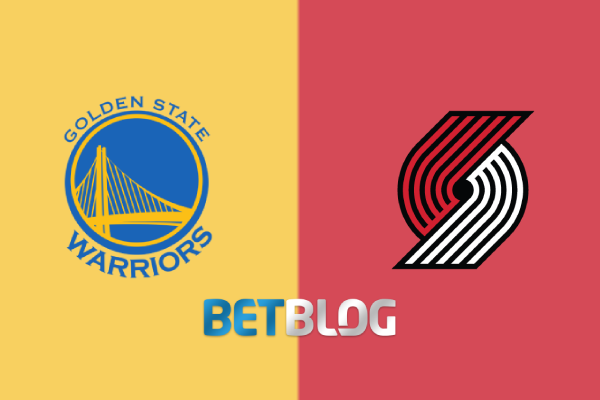 We are now down to 4 teams in the NBA Playoffs! Favourites Golden State Warriors take on the surprise team of the postseason Portland Trail-Blazers in the Western Conference Finals.
Playoff Run So Far
Golden State Warriors: The Champs have not have quite as easy of a run so far in the first 2 rounds as they normally would in previous rounds. Warriors have lost 4 games which is the most they've lost in the 1st 2 rounds in Steve Kerr era, however dealing with injuries, sometimes inconsistent play and running into the Houston Rockets definitely has made the road tougher than ever. Warriors have beaten the Clippers 4-2 in the 1st round and then followed up with a 4-2 series win over the Houston Rockets despite missing Kevin Durant for half of G5 and the whole G6. KD has been enjoying his best postseason with the Warriors so far, but even when he went out players such as Klay, Curry, Iguodala, Green, Looney, Livingston have stepped up and delivered for Golden State against Houston despite many predicting the Rockets to force G7. This Warriors team showed exactly why they went 73-9 before KD arrived and are arguably still the best NBA team even without him which they proved against Houston. Warriors have been the best offensive playoff team to no one's surprise with the 1st OFF RTG, but have been exposed defensively a little as they are just 12th best in DEF RTG which they definitely have to improve.
Portland Trail-Blazers: What a run it's been so far for Portland. 2 times being tipped pre-series underdogs (2.30 odds vs OKC, 2.15 odds vs Denver) and 2 times they advanced from each series. Blazers have had some historic moments already like winning a Game 7 on the road against Denver who have had the best home court record this season, winning a 4 OT game against Denver in Game 3, buzzer beater to seal the series against OKC by Lillard, it simply has been a memorable post season for them so far.
Blazers have been solid on both ends 5th best OFF RTG, 8th best DEF RTG. The two star guards Lillard and McCollum have played out of their minds, CJ coming off a 37 pt game in Game 7 while also their depth players have showed up with big performances so far as well helping the star guards hold it down which was never the case in recent years in this Lillard/McCollum era and even with Nurkic out, so far we've seen the Blazers get the job done mostly thanks to Kanter and Zach Collins that have filled in his role. This will be Portland's first WCF since 2000 and despite being dubbed as big underdogs, being there already has been a sensational achievement and who knows maybe Charles Barkley will be right and they will surprise everyone and go to the Finals.
Key Players in this series
Steph Curry (Warriors): With KD out for minimum 2 games, there's no question who the main star man becomes on the Warriors now. Steph Curry, the 3x Champ, 2x MVP, multiple time allstar, greatest shooter ever, we can go on and on. Steph hasn't had the greatest of post seasons so far this year though averages still a decent 24/5/5 while shooting 44/37/94, but with KD being the main guy until Game 6 against the Rockets, Steph definitely has taken a back seat and now will have to step these numbers up even more. Curry has responded emphatically ever since Durant went out with a good 4th quarter performance in Game 5 to get the Warriors the close win and then scoring 33 points, all in the 2nd half by the way (23 pts in the 4th qtr) to secure Game 6. Steph has shown everyone exactly why he's considered as a top 5 player in that Game 6 and will have to replicate that type of performance nightly in this series. Curry averages 26.4 ppg against Portland for his career which is 2nd most against any opponent clearly loving to play against this team. Expect Curry to average near 30 if not more throughout this series.
Klay Thompson (Warriors): The other splash brother Klay Thompson surely is one of the biggest keys for Golden State. Again with KD out, his role increases offensively as he will get more shots and with his shooting ability we all know how lethal Klay can be. Thompson hasn't been anything special really until Game 5 of the WCSF came against the Rockets where just like Steph he really stepped up since scoring back to back 27 pt games. Klay will also be key defensively, he normally is the man to guard oppositions best guards and whether it's Lillard or McCollum, Thompson will definitely have the work cut out for him here in this series cause not only will he need to score consistently but also play good defense which Klay is sensational at doing so more often than not. Expect a very good series from Klay here.
Damian Lillard (Trail-Blazers): Just like for Golden State, the Portland's backcourt will be a huge key. They must absolutely outplay Steph and Klay and we'll start with Lillard. Lillard has had a wonderful post season so far putting up 28/5/6 per game and although his level dropped against Denver where he averaged 25/5/6 on 40% shooting compared to where he put up 33/4/6 on 46% shooting against OKC, he still had some very good games in the 2nd round to help Portland advance. Lillard averages a career high 27 ppg for his career against the Warriors (more than any any opponent). There really isn't much to add when it comes to Lillard, the guy is the best player, the leader of the team and if they want to win, Dame will have to be at his absolute best, maybe even better than he was in the 1st round in this series. He IS the Portland Trail-Blazers and is the most important player on the squad.
C.J.McCollum (Trail-Blazers): The 2nd star level guard and of course the 2nd most important player on the team. McCollum has also been sensational in the postseason and had capped off his run so far with a 37 point Game 7 performance in Denver nailing multiple clutch baskets to send the team into the WCF. C.J has been putting up 26/6/3.5 throughout this postseason on 45/40/77 shooting splits truly having his best playoff run of his career so far. McCollum's scoring ability, just like Lillard's is going to be crucial in this series to keep up with Golden State's powerful offense and he may need to even score more than 26 ppg so far in this post season for Portland to win.
Key Factors in this series
Golden State Warriors
Health: This really the biggest factor for Golden State and the only thing that can really stop them from 3 peating. With Cousins out for the series and Durant out for at least the first 2 games, the Warriors simply cannot afford to have anymore injuries especially to the other 3 stars in Klay Curry or Green. Curry has been dealing with a dislocated finger which has caused his level of play to drop, though he did start playing extremely well towards the end of the previous series. The Warriors are still the more superior squad in this series w/o KD and Cousins, but if one more key body drop they could be in serious trouble and of course getting Kevin Durant healthy is also important to get them over the line in this series. If Warriors avoid anymore injuries and get KD back by G3/4 they should be able to advance to the Finals.
Scoring from others: With KD out the Warriors still have Klay and Steph who are likely going to score in bunches, but someone else will have to step in and help them in this series. We saw some good dose of consistent scoring from Iguodala and Draymond Green so far in this post season with Iguodala averaging 8.5 ppg overall, but has especially stepped up in the last round against Houston in which he put up 13 ppg in the series while Draymond Green has averaged 12.6 ppg throughout this whole post season. If these two can continue to give them double figure scoring consistently and guys like Looney, Livingston provide some extra scoring the Warriors should be just fine without their superstar at least for the start of the series.
Portland Trail-Blazers
Bench Play: Bench was a HUGE key for Portland in the 2nd round of the series against the deep Denver squad. After being non existent in the 1st round with their bench being the lowest scoring bench, the Blazers bench was the 2nd highest scoring bench in the 2nd round upping their average by 16 points to 34 ppg against Denver and that mostly elevated due to the play of Rodney Hood who averaged who put up 14.7 ppg on 57/50/77 shooting splits after averaging just 3.2 ppg in the 1st round. Hood was a huge key in the 2nd round and Portland simply need him to continue to play at that level. Seth Curry, Zach Collins, Evan Turner have all provided with some key moments so far in this Playoff run and the Blazers will need them to continue to perform at high level to compete with Golden State. Blazers arguably do have a much more talented bench and that could be one of the biggest factors entering the series for Portland if they were to win it.
Dame and C.J have to score in bunches: This is an obvious one. If Portland want to win, both star guards have to be GREAT. They have been scoring at an incredible rate with Dame putting up 28 and CJ 26 in the Playoffs with multiple great games by either one of them in this Playoff run (Both already scored 40+, Dame even had 50 in a game), however the test gets tougher now and both of them will have to probably score even more, as much as 30 ppg from both of them could be required in this series. Lillard and McCollum are both ELITE scorers and are the biggest reason for such success for the Trail-Blazers. They will have to outplay the backcourt of Steph and Klay for Portland to have a legitimate shot at surprising the Warriors in this series.
Regular Season H2H
The Regular Season series has been quite evenly matched between these two teams finishing 2-2 with both teams winning one home and one road game. Both teams got one blowout win each Golden State winning by 28, Portland winning by 22 and the other 2 games were more closely matched with GS winning by 10 and Portland winning by 1. Golden State on average scored 3.75 more points than Portland in the regular season H2H. The games were also relatively high scoring on average being 222.8 points scored with the lowest scoring match up being 219 pts and the highest scoring being 226 points. Given the explosive players that both teams have, high scoring games should come to no surprise to anyone between these squads.
Series Prediction
Don't anticipate the Warriors to roll over the Blazers here quite as comfortably as some may think. With Durant out for multiple games there genuinely is an opportunity for Portland to steal some games and we believe they will do just that. Warriors were great against Houston w/o their superstar forward, but you also got to remember it was just 1 ½ games. Whether Draymond and Iguodala will continue to score at high rate is questionable and whether we'll see bench scoring like we did in Game 6 against Houston is highly unlikely though that can also be applied to Portland given how inconsistent their role players are themselves. Portland have some explosive players on that team, 2 allstars (though McCollum isn't officially one, he definitely is that level) and when they faced the Warriors without KD in 2016 with a worse squad we could very well see how Portland competed with them making every game close despite losing 4-1 so we should definitely see a lot of close games. We still do believe that the Warriors will win this series, but it will take them some time to do so as they will win this series in 6. Expect all star guards to have a big series from both squads.
Series Odds (TonyBet)
Warriors to Advance 1.20
Trail-Blazers to Advance 4.75