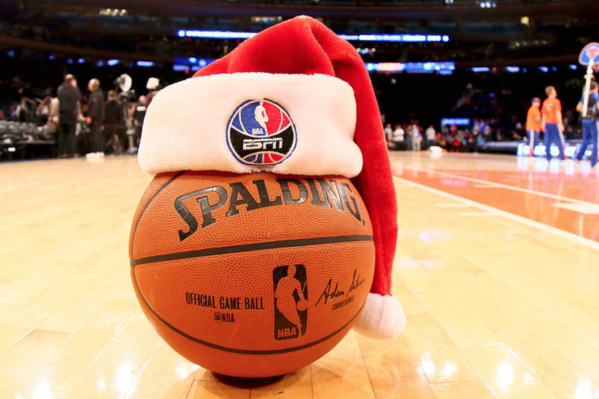 The day is finally upon us and we have a ton of great hoops to watch! It's Christmas Day! As every year, we have 5 games with some of the best players taking the court and some of the rivalries renewed. This Christmas we get to see Giannis, LeBron, KD, Curry, Lillard, Westbrook, Harden, Embiid, Kyrie and many more stars! We will start off the day with Bucks visiting the Knicks, then Thunder hosting the Rockets, Celtics hosting the Sixers, Warriors hosting the Lakers and to finish off Utah to host Portland. Here's our preview for every one of these games!

Milwaukee Bucks @ New York Knicks
We're going to open up the Christmas Day with a game that is considered to be the biggest mis-match of the day! The 2nd seeded Bucks (22-10) travel to New York to face the Knicks (9-25). The Bucks this season have been one of the best teams in the NBA and have asserted themselves as a legitimate contender to win the East, or even go for the title. Meanwhile, the Knicks have been one of the worst teams as expected with Kristaps Porzingis out to start the season. Knicks have especially fallen off in recent weeks losing 9 of their previous 10 games which is ironic because before that stretch they beat Milwaukee! The morale is likely going to be completely down right now for the Knicks.
These teams have already faced each other twice and surprisingly, the Knicks have been able to keep the series tied at 1-1. The Bucks won the opening match up 124-113 at home but it was actually a close game until Milwaukee went on an 11-0 run to finish. However, the Knicks got their revenge at the end of November when they surprisingly beat the Bucks at MSG 136-134 after OT! The top story between these teams this season was when Hezonja dunked on Giannis and stepped right over him which prompted to Giannis saying "I'll punch him in his balls" so we can anticipate Giannis to come out looking to get revenge on Hezonja's team for sure! Both games this season between these teams have been close and entertaining so hopefully New York can give the Bucks a challenge again for all the neutrals!


Stats
New York Knicks have lost 5 consecutive Christmas games (avg margin of loss – 11.2 pts).
Knicks have lost 5 straight games at home (Last win vs Bucks ironically).
Kevin Knox is averaging 20.2 ppg in his last 7 games.
The Knicks have the 2nd worst Defensive RTG in the NBA this season (113.2).
In their last 10 games the Knicks are giving up an average of 118.9 ppg on defense.
The Knicks have covered 51.3% of pts overs this season
The Knicks have only covered 46.2% of their handicaps this season
Milwaukee Bucks have the 2nd best OFF RTG in the NBA this season (112.6). They're also 6th in Pace at 103.19.
Giannis is coming off his worst scoring game of the season with 9 pts against Miami. Bounce back expected.
Giannis is averaging 32 ppg against the Knicks this season (31, 33).
Bucks have covered 58.3% of pts overs this season. 4th highest in the NBA.
Bucks have also covered 58.3% of their Handicaps this season. 5th highest in the NBA.
Missing Players
Bucks: Ersan Ilyasova
Knicks: Mitchell Robinson, Kristaps Porzingis
Prediction
Given that it's Christmas, playing at MSG and it's on national TV you have to say Giannis goes off here for a high scoring game in mid 30s or even higher especially after having a bad game recently he'll look to bounce back so Giannis pts over is a good bet to back. Furthermore, we expect Milwaukee to come out and dominate this game. The Knicks are not playing well right now at all so this could very well turn into a Bucks blowout win considering how explosive they are offensively. Bucks to win around 125-105.
__________________________________________________________________________________________________

Oklahoma City Thunder @ Houston Rockets
The hottest team in the NBA and currently the 3rd seeded Thunder (21-11) go on the road against a Houston Rockets (17-15) team who have seemingly had a resurgence but been dealt with a blow as Chris Paul is out for multiple weeks of course missing this game. Houston did manage to beat a red hot Spurs team without CP3 in their last game, but whether they can continue this play is questionable as they've as a whole struggled when CP3 is out this season as in 6 games that he missed they're 1-5. OKC after starting the season 0-4 have gone 21-7 since but did surprisingly lose their most recent game to Minnesota at home therefore they'll be looking to have a bounce back game. Paul George's play in recent weeks has been unbelievably good and is expected to continue that here just like James Harden who has been going off a lot recently.
This season these teams already faced each other once and OKC won 98-80 by suffocating Houston on defense at home despite missing Russell Westbrook whereas Houston were healthy. Now the roles are reversed and Houston are the ones without their star PG! OKC have in fact won 3 of previous 4 H2H meetings with Houston including last Christmas beating them 112-107 in Oklahoma in a similar scenario as CP3 was out for Houston then too.
Stats
Houston Rockets are 1-5 without Chris Paul this season (Won their recent game though).
When Chris Paul doesn't play, the Rockets defense gives up an average of 116 ppg.
Rockets have won 6 straight and 10 of their last 11 games at home.
Rockets are 4-1 against the current top 4 seeds in the West this season.
Houston Rockets are 4th best in OFF RTG (112.1), however they're 5th worst in DEF RTG this season (111.4).
Rockets are 29th in Pace (96.79). Only Memphis play slower.
James Harden is averaging 37.7 ppg in his last 8 games. He's scored at least 35 in 4 consecutive games and in 6 of those 8. Scorching HOT.
Rockets have covered just 48.6% of their Handicaps this season.
Rockets have only covered 45.9% of their total pts overs this season
Rockets are 2-1 on Christmas Day with James Harden as their star man. Harden averages 25.6 ppg in the Rockets uniform on Christmas.
Thunder are 2-4 on the road against current playoff seeded teams in the West
Thunder are 2nd in DEF RTG in the NBA this season at 102.0. They're also 5th in pace at 103.53. Offense is their only real weakness as they're just 18th in OFF RTG at 108.1.
In his last 10 games, Paul George averages 32.8 ppg scoring 30+ 7 times.
Russell Westbrook's scoring has been extremely low in his last 8 games as he's only averaging 15.1 ppg scoring 20+ just twice.
Russell Westbrook averages 23.7 ppg on Christmas Day, however it's up to 32 ppg when he doesn't have Kevin Durant with him (34, 31, 31)
Thunder have managed to cover just 44.4% of their total pts overs.
Thunder have covered 55.6% of their Handicaps this season.
Thunder are 6-2 on Christmas Day. They've won their last 2 Xmas games
Missing Players
Thunder: Andre Roberson, Terrance Ferguson (Questionable)
Rockets: Chris Paul, James Ennis, Carmelo Anthony
Prediction
OKC to win is the best bet to back. With Paul out, Houston are simply not the same team. OKC's defense will be able to slow Harden down who will likely still drop 35 points but we anticipate to be an inefficient 35 points and as long as Houston don't go berzerk from 3, they will be beaten. OKC have a much deeper squad right now, they can match Harden's star power with 2 stars of their own in PG and Russ, Adams/Capela match up is even and Oklahoma's bench is far better. One thing that favours Houston is home court advantage where they've had success recently but most of it came with Chris Paul on the court. OKC have seemingly had Houston's number in recent match ups aswell beating them in 3 of last 4 and destroying them this season. We also expect a low scoring game with both teams scoring in the 90s/low 100s. OKC's defense is elite, Houston play at slow pace and will slow it down so this will likely be a grind out game. OKC to win around 100-95 in this match up.

__________________________________________________________________________________________________
Philadelphia 76ers @ Boston Celtics
Two Eastern Conference foes, long time rivals and contenders face up in Boston as Boston Celtics host the Philadelphia 76ers! Both teams have faced a lot of questions this season already, but in recent weeks they've responded with great play as Philly have played well since the Butler traded and are 22-12 whereas Boston are 19-13 after their 10-10 start winning 9 of their last 12 games playing explosive offense and blowing out many teams in that run. Both teams are coming off dominant wins in their recent games as 76ers blew out Toronto 126-101 while Boston dominated Charlotte 119-103 so both teams are definitely on a high entering this Christmas day game.
These teams have faced each other many times since the start of last season and Boston have been the dominant squad beating Philly in 8 of 10 meetings in these past two seasons! Last season they won the regular season series 3-1, playoffs 4-1 and beat the 76ers in the Opening Night this season 105-87 at home which actually prompted Embiid of saying that this can't be a rivalry as "Boston always kick our butts". Boston have been able to contain Simmons and Embiid, especially Simmons in these games as their defense has been too much for the young star holding him under 10 pts multiple times, however with Jimmy Butler now on the Sixers, their fans will be hopeful that these struggles against Boston will end starting here!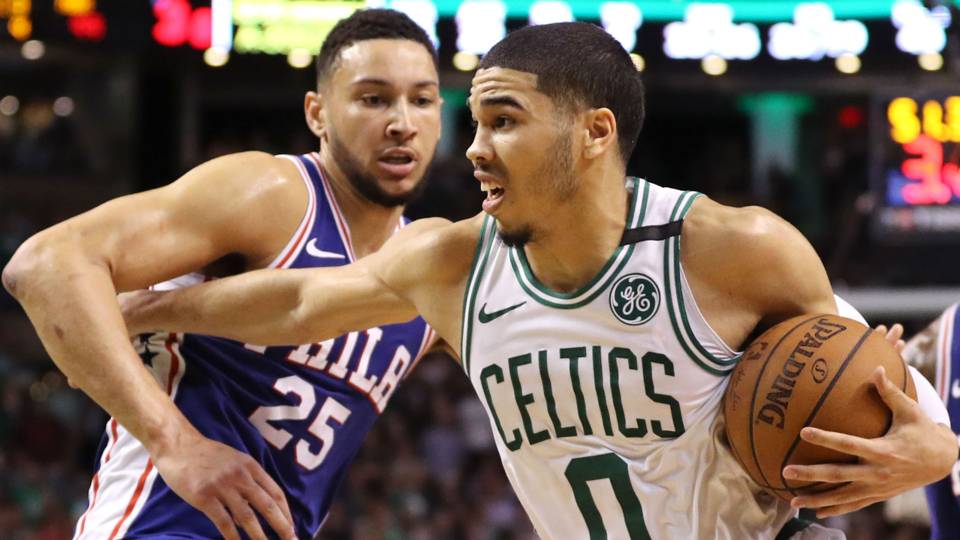 Stats
Boston Celtics have the best OFF RTG in the NBA since 27th November (117.8). They're averaging 119.6 ppg and are 9-3 in this stretch
Boston Celtics are 3rd In DEF RTG this season (103.5).
Celtics are 3-1 against elite East teams at home this season. Sixers 1-0, Raptors 1-0, Bucks 1-1, not played Indiana.
Jayson Tatum has scored at least 20 pts in each of his last 6 games against the 76ers. Averaging 23.5 ppg in this stretch.
Celtics have beaten the Sixers in 11 of last 12 H2H games in Boston
Celtics have the 3rd highest percentage of covered pts overs in the NBA this season at 58.3%.
Celtics have only covered 44.4% of their Handicaps this season. 21st worst.
Celtics have played just 2 Christmas games at TD Garden before and they're 1-1 in those. Lost most recently to Washington last year.
76ers are only 6-9 on the road this season (4-3 with Butler).
Sixers are 1-4 on the road against East elite teams (0-2 Toronto, 0-1 Milwaukee, 0-1 Boston, 1-0 Indiana)
Sixers are 13-4 with Jimmy Butler (76.4 win %)
Since the Jimmy Butler trade, the 76ers have the 4th highest OFF RTG at 113.7, their defense is also good at 13th (108.0) and they play 8th highest pace at 101.94
Joel Embiid averages 21.3 ppg against the Celtics, Simmons averages 14.1 ppg against the Celtics for their careers.
76ers have covered 57.9% of their pts overs this season which is 5th highest in the NBA.
76ers have only managed to cover 42.1% of their Handicaps which is 24th worst in the NBA
Since the start of last season an average pts scored between these teams per game is 202.6 in 10 meetings.
Missing Players
76ers: Zhaire Smith, Markelle Fultz, Justin Patton, Wilson Chandler (Doubtful)
Celtics: Aron Baynes
Prediction
Boston have had Philly's number in the past 10 meetings, however this is the first time they get to see the 76ers with Jimmy Butler and it will be very interesting to see whether Jimmy can help Philly overcome their struggles against the Celtics. Celtics win still seems like the more of a likely scenario here as Brad Stevens simply tends to out coach Brett Brown. Boston have the 76ers number, they have owned them in every way in recent meetings and it seems like going against them here would be silly until the 76ers can prove that they can beat Boston and overcome their struggles against them, plus 76ers have really struggled on the road especially against elite teams this season. Jayson Tatum points over is a good bet, he always turns it on against the 76ers so don't be surprised if he drops another 20+ pt game against them. Celtics to win 115-110, it will be a higher scoring game than usual between them as both squads have improved drastically on the offensive end in the past month.
__________________________________________________________________________________________________

Los Angeles Lakers @ Golden State Warriors
Same rivalry, different franchises! It's LeBron's Lakers against the Golden State Warriors! After 4 years of gruelling battles against Golden State with Cleveland in the Finals, LeBron now faces them for the first time as a Los Angeles Laker and what a game we could have here, easily the most anticipated match up of the night! Since Curry returned the Warriors have returned to playing their ball again winning 8 of 11 games and scoring at will with Steph playing great basketball. The Warriors have moved to 2nd seed at 23-11 and look like it's only a matter of time until they grab that 1st seed and run away with it! Meanwhile, the Lakers have fell in a bit of a hole losing some games they should've won like in Washington, Brooklyn and against Memphis in the past week which has plummeted their record to 19-14 and with this Warriors game upcoming they must absolutely find something that works or else this could be an ugly night for LA.
This is the first meeting between these teams this season. They have faced twice in Pre-Season with the Lakers winning both but nothing should be made out of that as key stars didn't play the whole games. In recent seasons the Lakers have been able to keep competitive with GS for example last season despite being swept they took them to 2 OT's and in the other 2 games they found a way to hang around in the 4th QTR and we've heard Warriors star players admit in interviews that they've had a tough time with Lakers young guys and their length therefore this may not be quite a straight forward night for GS, especially now that LA have LeBron James.
Stats
Lakers are 10th in DEF RTG in the NBA (106.9), 17th in OFF RTG (108.4) and they're 4th in Pace at 103.76.
Lakers have lost 5 of their previous 7 road games.
Lakers have lost 7 of their last 9 Christmas games
Kyle Kuzma has scored 20+ pts 7 times in 9 games in December. He averages 21.7 ppg this month.
Kyle Kuzma averages the most career PPG against the Warriors (26.0).
Lakers have only covered 38.5% of their point overs this season. 24th best in the league.
Lakers have covered a measly 38.5% of their Handicaps this season which is tied worst in the league
LeBron is 1-2 against Golden State on Christmas Day (0-2 at Oracle) averaging 25.3 ppg in these games.
Warriors are 1st in OFF RTG in the NBA at 113.5 and they're 10th in pace at 101.63.
Warriors are 11-1 at Oracle against Western Conference teams this season.
Warriors have not lost to a LeBron James team at Oracle ever since signing Kevin Durant. They're 7-0 against LeBron at home with KD.
Kevin Durant averages 32.2 ppg in 7 career Christmas games.
Steph Curry averages just 11.8 ppg on Christmas Day and has not scored 20 points a single time in his 6 career Christmas day games.
Warriors have covered 51.3% of their total point overs this season.
Warriors have only covered 38.5% of their Handicaps this season which is tied for NBA's worst this season.
Missing Players
Lakers: Michael Beasley, JaVale McGee (Doubtful), Tyson Chandler (Questionable)
Warriors: Damian Jones, DeMarcus Cousins, Kevin Durant is PROBABLE to play
Prediction
Anticipate a pretty close game here. Warriors simply don't tend to blow teams out and Lakers are one of those teams who tend to give the Warriors fits when they meet. Eventually the Warriors will come out on top in the end but this will likely be around a 5 pt win for Golden State. Kevin Durant will likely be the MAN here for Golden State as recent trends tells us that he normally is the guy who shows up the biggest against LeBron's teams plus he always tends to go off on Christmas and not Steph Curry. KD points over is the bet to back and a Lakers + handicap as we don't believe in a blowout here. The prediction for the game is around a 120-115 win for Golden State, Durant and LeBron both go off for 30+ pts here.
__________________________________________________________________________________________________

Portland Trail-Blazers @ Utah Jazz
The final game of the night will be between two playoff contending teams as Utah Jazz host Lillard's led Portland Trail-Blazers! It's a game that both teams really need to win given that Portland have been inconsistent in recent weeks and same can be applied to Utah who aren't even in the playoff places right now. As standings are right now, Portland are 5th seeded with a 19-14 while Utah are 11th at 16-18 however it is fair to say that Utah have arguably have had one of the toughest schedules this season so far and they have shown flashes of fantastic play at times. Portland meanwhile despite their great record, have struggled massively on the road this season especially recently and are understandably tipped as big underdogs.
This season, these teams met once and that was just 3 days ago in Portland and Utah laid down a huge statement to Portland as they wiped them out by an incredible 30 points handing Portland their worst home defeat in 14 years! In recent couple years Portland haven't had great success against Utah having lost 5 of last 8 H2H meetings and 4 of last 5 Utah. Safe to say right now Utah hold that mental edge in the H2H match ups.
Stats
Portland have lost 6 of their previous 7 road games and are 6-9 on the road this season in general.
Blazers are giving up an average of 120 pts in their last 7 road games
Blazers are 10th in OFF RTG at 110.6 this season, however they're just 19th in DEF RTG at 110.0
Blazers have covered 51.6% of their total point overs this season
Blazers have only covered 45.9% of their handicaps this season
Blazers are just 2-7 against Western Conference Teams on the road this season
Damian Lillard averages 26.3 ppg against the Jazz for his career which is 5th highest against any franchise.
Utah Jazz have won 4 of their last 5 home games and their average plus minus is +18.4 in those 5 games.
Donovan Mitchell is currently enduring a huge slump as he's averaging just 13.3 ppg 24.5% shooting.
Jazz are only 4-5 against Western Conference Teams at home this season (3-1 in last 4 though).
Jazz are one of the best teams defensively with the 7th best DEF RTG at 105.3. However they're just 23rd in OFF RTG at 106.1.
Jazz have covered 53.8% of their total point overs which is 10th best in NBA.
Jazz have covered 53.8% of their Handicaps which is 11th best in the NBA.
Missing Players
Trail-Blazers: None
Jazz: Grayson Allen
Prediction
Anticipate a much closer game than the one 3 days ago despite Utah being the home team now. It's hard to see Dame and CJ allowing Portland to get rinsed by the same team like that twice in such a short period and they will make adjustments and give Utah a much tougher game. Now whether they'll win is questionable to be fair. Portland's road struggles are clear and Utah's home court is one of the toughest in the league despite some inconsistency from them there this season they have improved at home in recent weeks and if they show up like they can then they will likely win. We're expecting a close game as mentioned but Utah will win again. Utah are tipped as 7 pt favourites, wouldn't advise backing that and instead just wait LIVE for the handicap to drop to like 2-3 pts. Our prediction is Jazz win approximately by the score 110-105.