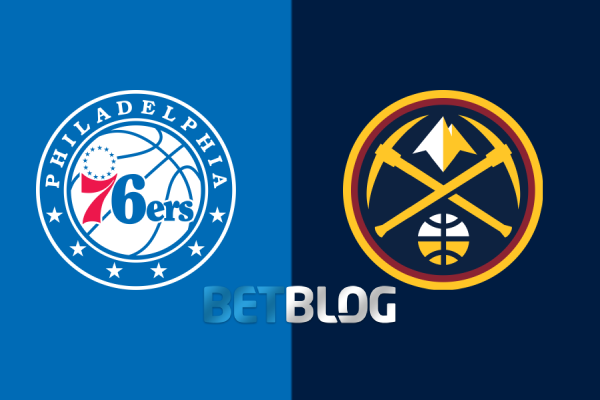 Two young elite teams face off in Philadelphia as the new look 76ers host 2nd seeded in the west, the dangerous Denver Nuggets!
Philadelphia 76ers
Well it's been eventful in Philadelphia since their last loss to Toronto as they've made some serious moves which could arguably elevate them as top contenders in the East! The 76ers top new addition Tobias Harris who averages 20 ppg on extremely good efficiency got 76ers fans believing that he might be the final piece of the puzzle and the new big 4 of Simmons, Embiid, Butler and Harris is expected to prove to be a serious force in Philadelphia and we may get to see the big 4 play tonight if nobody sits out! 76ers biggest worry right now is a lack of depth off the bench but additions of Marjanovic, Mike Scott, Jonathon Simmons and James Ennis should definitely help them. Philly continue to play through their most brutal part of the schedule in which they're so far 5-4 doing relatively well. 76ers lost to Denver earlier this season but Butler and Embiid were both out and Tobias Harris was not apart of the team so this will be a completely different Philly team that Denver will see. 76ers are 21-6 at Home this season which is one of the best home records in the league. Biggest worry entering tonight is Joel Embiid is listed as questionable to play, after missing the 1st match up against Denver, it'd be very disappointing if he was out again for the Nikola Jokic match up.
Injury News:
JJ Redick – Not on injury Report
Joel Embiid – Questionable
Shake Milton – OUT
Jonathon Simmons – OUT
Zhaire Smith – OUT
Justin Patton – OUT
Denver Nuggets
Denver Nuggets are coming of back to back defeats in Detroit and Brooklyn, but despite that they're still 2nd seed in the West at 37-17 1.5 games behind Golden State and 2 games above OKC. This game against Philly is definitely one Denver would like to get and avoid a 3 game losing streak. Denver's biggest strength this season has been depth without doubt simply due to the fact that when their key players like Murray, Harris, Barton in particular have missed games, they still have managed to find ways to win games especially thanks to play from Malik Beasley, Monte Morris, Torrey Craig, Mason Plumlee who have held it down whenever starters been down or by outplaying other teams benches when coming off the bench consistently. Depth is definitely something Denver will be relying on tonight as they have more of it than Philadelphia and if their role players show up, they'll have a great chance of stealing one in Philadelphia. Expect star Nikola Jokic to put up another big game tonight as he will potentially face off against another elite big man in Joel Embiid and that battle is another key for Denver tonight assuming Embiid plays. Denver haven't been quite as good on the road at 14-13 compared to 23-4 home record, but regardless that still is 3rd best road record in the West and they are dangerous.
Injury News
Gary Harris – OUT
Paul Millsap – Questionable
Michael Porter JR – OUT
Isaiah Thomas - OUT
Betting Stats
Totals
76ers are one of the better total point over covering team in the NBA at home this season at 55.5% (15-12). The total for this game is 230 and the 76ers had the 230 point pre-game total once this season at home and that was in their most recent game against Toronto which ended with an under in a 119-107 loss (226 pts). 76ers have had a very close 229.5 total twice this season against Atlanta and LA Clippers. Under against Atlanta (113-92) and over against the Clippers (122-113).
Nuggets are one of the worst teams on the road at covering total point overs this season at 40.7% (11-1-15). Nuggets games have been slightly more high scoring as of late though as more of their unders have come early in the season. Denver have actually covered 9 of last 16 road overs after starting the season 2-1-8 at covering overs. The 230 point total against Philly is only the 2nd time Denver have a point total in 230s on the road with the only other being 235 pts at LA Lakers which was a void (121-114). The closest total to 230 that Denver have had on the road this season was 227.5 pts in Sacramento which ended with an over in a 117-113 win for Denver.
Handicaps
76ers are around the middle at covering Handicaps at Home in the NBA this season at 51.8% (14-13). 76ers are 4.5 point favourites against Denver. They have not had a -4.5 Handicap but have had a similar -4 Handicap against the Pelicans which they failed to cover despite winning 121-120. Denver have also had a similar -3.5 Handicap against Houston which they covered winning easily 121-93.
Nuggets are woeful at covering Handicaps on the road this season at just 33.3% (9-18). Nuggets are 2-13 at covering Handicaps in their last 15 road games and have failed to cover 7 straight Handicaps as the road team which is absolutely shocking given how good this team is. Nuggets are 3-7 at covering Handicaps as the road underdog. They've been 4.5 point underdogs once this season against San Antonio which they didn't cover losing 111-103. Another close Handicap to that was 3.5 point underdog against the Clippers which they also failed to cover losing 132-111. Handicaps are basically not Denver's strength on the road this season.
Recent H2H in Philadelphia
These teams have a split in the past 4 H2H meetings (2-2) in Philadelphia but really until last season the teams were very different compared to now.
The last meeting in Philly last season was won by the 76ers in a dominant fashion 123-104. In that match up, the 76ers covered a -5 Handicap and total 226 points resulted in an over by 1 point as the teams totalled 227 points.
TIP OFF – 9th February 2019 – 12am UK Time