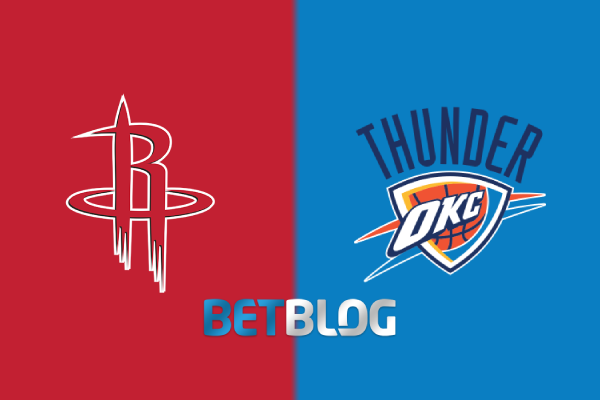 Two elite teams face off in Houston as Houston Rockets host the Oklahoma City Thunder on a Saturday prime time match up!
Houston Rockets
It seems like Houston have figured it out and have played to the level they have been playing last season in the past few games. Houston are currently riding a 3 game win streak winning 3 road games in Utah, Phoenix and Sacramento. Beating Phoenix might not be anything to gloat about but 27 pt win in Utah and a 26 pt win in Sacramento really got us feeling like this team is back on track. Chris Paul returning and playing well alongside Faried fitting in well while Capela is out has been huge for Houston, but James Harden playing on an incredible level scoring 30+ pts in 28 consecutive games is the main reason for such success for Houston. Harden has been playing completely out of his mind and we should expect him to put together a huge game against OKC who he normally plays well against, most recently dropped 41 on then on Christmas in a win. Houston have also added depth during trade deadline adding Iman Shumpert who is going to make his debut. Iman has been solid this season and will definitely help them out. Houston are pretty much at full strength apart from Clint Capela who is still side-lined but Faried as mentioned has filled his spot very well. Houston are dominant at home after starting 0-4, they've won 19 of 23 at Toyota Center.
Injury News:
Clint Capela – OUT
Oklahoma City Thunder
Just like Houston, OKC are red hot right now. OKC could get within 1 game of 2nd seeded Denver with a win tonight. OKC have won 9 of their last 10 games and that's due to depth play, but most importantly because how insanely Russell Westbrook and Paul George have played. Russ is currently on a run of 8 straight triple doubles and could tie the triple double streak record tonight while Paul George is averaging around 34 ppg in his last 10 games on efficient play which has really inserted him into the MVP race alongside Harden and Giannis. During their 9-1 run, OKC have beaten some really good teams such as 76ers, Bucks and Blazers. OKC are pretty much at full strength, we can expect Russ and PG to put on a show tonight in this marquee match up. OKC are a pretty good road team at 16-12 which is 2nd best road record in the West after Golden State. Tonight, would be a really good statement win if they were to get it.
Injury News
Andre Roberson – OUT
Alex Abrines – OUT
Betting Stats
Totals
Rockets are the BEST at covering total point overs at Home this season at 66.6% (18-9). Rockets games tend to be far more high scoring at home than on the road. The total tonight is 237.5 points. This is the highest pre-game total that is given for a Houston game all season when they're the home team with the previous high being 234 points against the Pelicans in what was actually their most recent home game which they shockingly lost 116-121 covering the total point over.
OKC are pretty woeful at covering total point overs on the road this season at just 39.2% which is bottom 5 in the NBA (11-1-16). However, OKC have actually covered 5 of last 7 road overs which is mainly due to the fact that they've fell off defensively and have scored at a much higher rate compared to earlier in the season. 237.5 pre-game total is also the highest for OKC tonight when being the road team with the previous high being 235 points against the 76ers which resulted with an under in OKC's 117-115 win.
Handicaps
Houston are pretty good at covering Handicaps at Home at 59.2% (16-11) even despite the fact that they failed to cover each of their first 4. Rockets are 2 point favourites for this game. They've not been tipped as 2.0 point favourites this season but have had close Handicaps to that most closely 3 points against Indiana covering it with a 115-103 win. They were also 1 point favourites against Denver which they also covered winning 125-113.
OKC are pretty good at covering Handicaps on the road themselves at 57.1% which is top 5 in the NBA. OKC were 2 point underdogs once this season against the 76ers which they covered in a 117-115 win. They were also 1 point underdogs against the Hornets covering it with a 111-107 win and 3 point underdogs against Washington also covering 134-111. They're pretty good as slight underdogs on the road.
Recent H2H in Houston
Rockets have dominated OKC in recent meetings winning 10 of last 11 in Houston, the only loss coming late last season.
The most recent match up was earlier this season on Christmas which Rockets won 113-109 despite CP3 being out. In that match up Rockets were 1.5 point underdogs actually which they of course covered. Total points 221.5 ended with an over as the teams totalled 223 points.
TIP OFF – 10th February 2019 – 1:30am UK Time