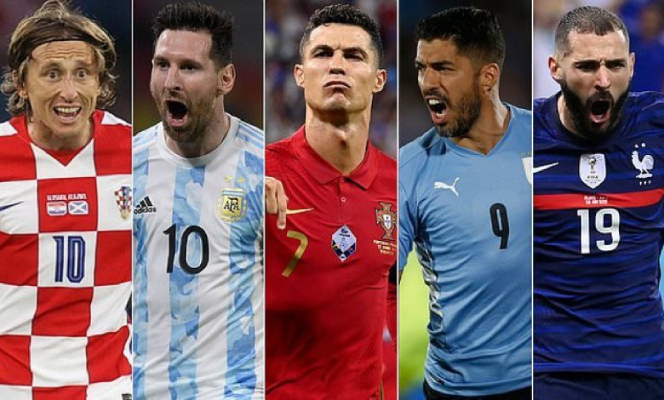 The 2022 FIFA World Cup is drawing quickly, and expectation and excitement are at a record-setting high. Do know that football is one of the sports with the highest prestige, and every player wants to take home the championship trophy.
The trophy has yet to be won by many top athletes, and a lot of them may not compete in another World Cup because they are nearing the end of their careers.
A lot is anticipated from them in this tournament, despite the 2022 World Cup in Qatar could be a turning point for them to retire. Let's take a look at several athletes that may decide to retire following the 2022 FIFA World Cup.
Lionel Messi
At the 2022 World Cup, the best player in history will have another opportunity. The thirty-five-year-old Messi will try to erase memories of the 2014 World Cup final. Because Messi and his team seem to be the favorites for this World Cup, the seven-time Ballon d'Or didn't want to lose this last opportunity as we might not see him at the next World Cup.
Messi ,the Argentinian player with the most goals and assists overall (162 games, 86 goals, 51 assists). This would be totally committed to give his all during the campaign and it would be a great concept for him to end his international career by winning the most famous football trophy.
Cristiano Ronaldo
Ronaldo won't be able to participate in another World Cup since he is getting close to forty and is starting to lose all of his attributes. But he will take part in the 2022 FIFA World Cup because of his reputation. The thirty-seven-year-old will participate in his sixth World Cup and be inspired to win the title due to Portugal's depth in the team.
Ronaldo has 117 goals and 42 assists in 189 games for Portugal, making him the all-time best scorer in international football. His final opportunity to exit professional football with the most coveted prize will be in Qatar.
Thomas Muller
Muller has indeed won a World Cup, and the tournament in Qatar will likely be his last. Muller is a talented player with a significant impact on his nation; even at age thirty-three, he is still Germany's most crucial player.
In 16 World Cup appearances, Muller made 10 goals and 6 assists, underscoring his value to the country. His last competition will be the 2022 World Cup.
Robert Lewandowski
Another well-known striker, Lewandowski, will compete in his last World Cup in Qatar. Despite the fact that his native Poland isn't one of the favorites, the Barcelona forward has 76 scores in 134 games for the nation and will be ready to cheer up the competition with his performance.
The thirty-four-year-old Lewandowski has been in fantastic form since joining Barcelona and has 14 goals in all competitions. Besides, he will try to continue playing like this at the World Cup.
Edinson Cavani
During this World Cup, the Uruguayan will take the national team jersey one last time. Cavani joined Valencia after leaving United and is currently trying to play more before the World Cup. Suarez will be supported up front by the thirty-five-year-old, and both strikers form the centerpiece of Uruguay's attack.
In 129 games for his country, Cavani has tallied 56 goals and provided 17 assists. In the upcoming World Cup competition, he will be crucial to the team.
Luis Suarez
Luis Suarez will also give up playing for Uruguay after the 2022 FIFA World Cup, joining Cavani in doing so. The thirty-five-year-old former Barcelona player is now a member of Nacional, his original team.
Luis Suarez, one of the best attackers in his prime, caused havoc for defenders and holds the record for most goals scored by a national team player with 56 in 134 games. The player won't participate as heavily in the competition because he is past his prime. After the World Cup, he'll undoubtedly depart from the national squad.
Luka Modric
The midfield genius led Croatia towards the 2018 FIFA World Cup final, where they lost to France. He was awarded the tournament's best player and the Golden Ball winner. With that, Modric has continued to be the most crucial player for the nation ever since, maturing like a great wine.
Beginning in November, the Real Madrid midfielder will take part in his final World Cup. Despite being thirty seven years old, Modric continues to be a key member of Croatia's lineup.
Final Thoughts
Many of the top soccer athletes in the world are looking forward to the 2022 FIFA World Cup, which will happen in Qatar. Messi and Ronaldo are some of the huge favorites to play for this tournament, yet heading to their final years.
Joining them are other notable players like Luca Modric, Luis Suarez, Edinson Cavani, Robert Lewandowski, and Thomas Muller? Who will reign supreme and leave the most memorable FIFA World Cup final play in Qatar? Let's find out soon.