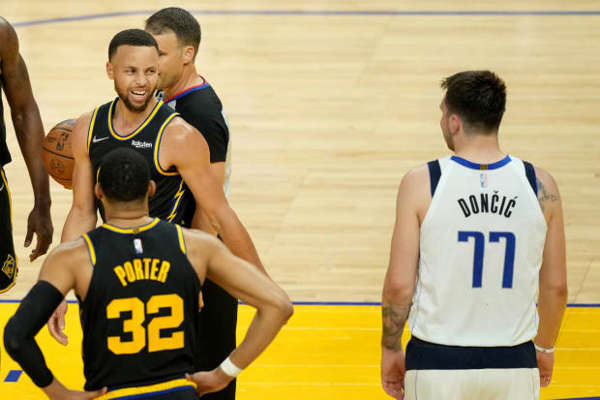 As the tedious NBA playoff season comes underway, it would be a good idea to start a great summer project ranking the top players in each position, from point guard to center, in order to preview who's doing their best in today's NBA season.
Given that so many of the best players in the league currently play point guard, it's safe to say that position is one of the most competitive in the NBA today. As you might have observed in the last matches, point guards have been recognized as shining brightly today rather than those stars who play in the center and other positions.
While there are many point guards to name who showed great plays inside the perimeter, there are some who excelled a lot. Hence, let's get started considering there are so many great point guards to discuss.
Luka Doncic
Most people seem to concur that Doncic, who is only 23 years old and is already one of the league's top five players. The question at hand is whether he can lead the Mavericks to a championship without a superstar partner.
By leading Dallas to the Western Conference Finals last season, he made a significant advancement in his quest to achieve that goal. He also put up some absurd numbers in the postseason, scoring 30 or more points in nine of the 15 games he played in and 40 or more points on three occasions.
Stephen Curry
Curry, who has become a four-time NBA champ after leading the Warriors to victory last season, scored 30 or more points 21 times during the regular season of 2021–22, including a 50-point performance against the Hawks on November 8 that also included seven rebounds and 10 assists.
The debate right now is on who among him and Magic Johnson is the best point guard in NBA history. Despite the fact that he and Magic have quite distinct playing styles, it is difficult to say which is better than the other. However, another outstanding season might firmly establish him as the greatest player to ever play the position.
Ja Morant
One of the league's most electrifying players, Morant stepped up last year, scoring 30 or more points 24 times, including a career-high 52 points on February 28 against the Spurs. Do the Grizzlies, who are no longer a surprise, have another gear or are they still missing one or two key players from being serious title contenders?
Trae Young
Young, who scored forty or more points seven times in the final three months of last year's regular season, was one of the strongest players to complete the campaign. However, his best individual effort was a little earlier, on Jan. 3, when he exploded for a career-high 56 points combined with handing out 14 assists against the Blazers. Atlanta's success this season and moving forward will likely depend upon how he and Dejounte Murray connect.
Darius Garland
With Garland and Donovan Mitchell, can Cleveland have the greatest backcourt in the NBA this year? Garland, one of the players who made the most improvements from the previous year, scored at least 30 points seven times in 2021–22, including a career-high 41 points on March 8 against the Pacers. There are some high standards in Cleveland. But are the Cavaliers still too young to get to them?
Kyrie Irving
Even though he only participated in 29 games during the regular season last year, Irving still gave off the impression that he was at the peak of his career. In 22 of those contests, he scored over 20 points, exploding for 50 points against the Hornets on March 8 and a career-high 60 points against the Magic on March 15. Will all the trade speculation throughout the summer be a distraction or a motivator, though?
Damian Lillard
Will Lillard be fully recovered after missing Portland's last 47 games of the previous season? He is reportedly in excellent health, but will this mean a more vibrant version of the eventual Hall of Famer, or will rust set in after being away for so long? Have the Blazers made enough additions around him to qualify for the playoffs again?
LaMelo Ball
Fans can typically discover a player's true potential during their third season. Ball had a fantastic second year, finishing with 39 games of 20 points or more and five triple-doubles. Coach Steve Clifford, who is now in charge of the Charlotte Hornets, typically urges his point guards to play methodically and with discipline.
That seems to go against Ball's preferred style of play, but Clifford has a history of getting the most out of his top players, as we saw with Kemba Walker during his first time in Charlotte.
Final Thoughts
The 2022-23 NBA has a long way to go before hailing the next champions. However, as the playoff season comes underway, some players have shown real talents that not only surprise the fans, but helped their teams succeed. With the list of the top point guards mentioned above, make sure not to miss any single match to see how they do as the season moves forward.