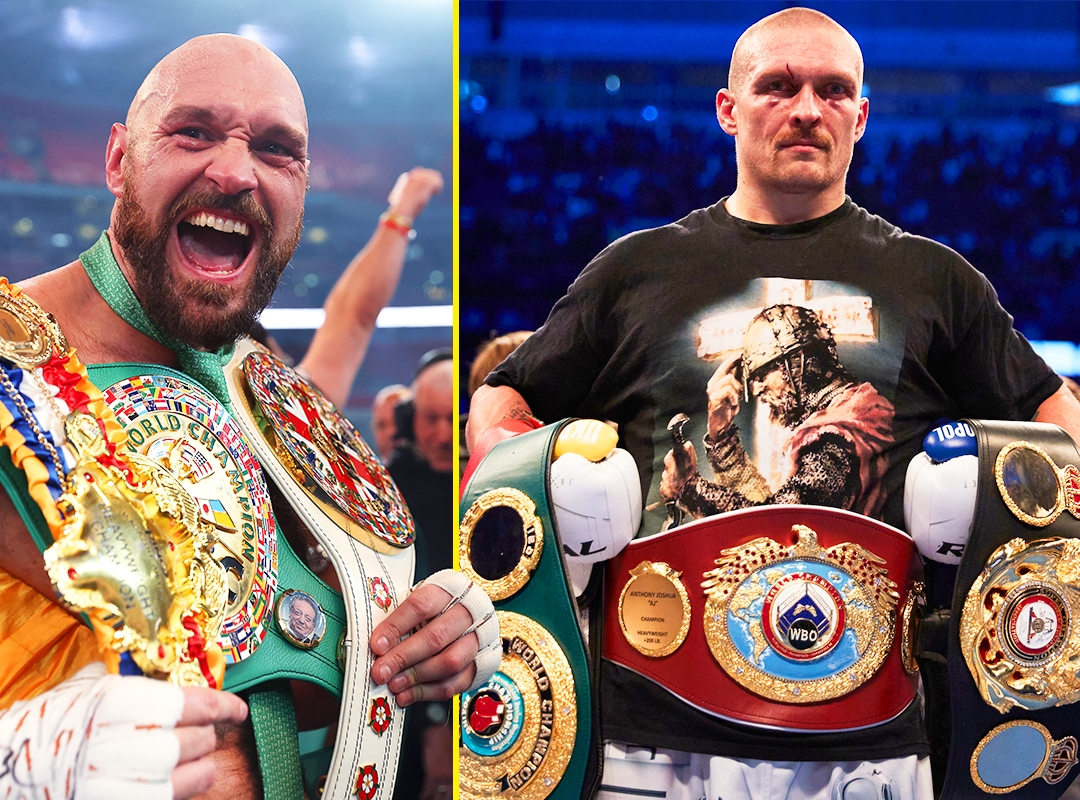 The biggest bout in boxing right now is Tyson Fury vs. Oleksandr Usyk. The winner of the fight would become the first undisputed heavyweight champion since Lennox Lewis in 1999. Boxing politics have gotten in the way far too frequently, but hopefully not anymore.
Usyk qualified for this fight by defeating Anthony Joshua by a split decision in their rematch in Saudi Arabia in August 2022, and after Tyson Fury defeated Dereck Chisora in their trilogy in December, there shouldn't be any more roadblocks.
Tyson Fury
Tyson Luke Fury, who was born on August 12, 1988, is a professional boxer with a record of 33-0-1. He is currently 34 years old. thirty-four battles in total, with 33 wins, 0 losses, and 1 draw. 24 of those triumphs came inside the distance.
Fury, a physical marvel who is 6ft 9in tall (2.06m), has tremendous speed and punching prowess to match his bulk. a potent and highly unique combination. He also has an 85-inch reach (2.16m).
It might be argued that during his boxing career, the British superstar has improved steadily. In Germany in 2015, he first ascended to the peak of the heavyweight mountain by defeating the legendary Wladimir Klitschko. Fury utterly confused the established champion in a masterful strategic boxing performance that led to a points victory.
After that, however, Fury plunged into a pit of misery as his mental health issues brought him dangerously close to committing himself. He gained weight rapidly, topping 400 pounds, and spent nearly three years away from the ring. At that point, it appeared extremely unlikely that anyone would make a comeback.
But he did return, and within a few months he was battling for the WBC heavyweight championship in Los Angeles in December 2018 against the fearsome Deontay Wilder. Despite being knocked down twice, most judges thought Fury boxed excellently and were disappointed he didn't win. The lone blemish in Fury's professional record so far is that it was a draw.
Oleksandr Usyk
Oleksandr Usyk has long envisioned himself as the undisputed world champion at both heavyweight and cruiserweight. He is only one battle away from accomplishing that amazing objective.
The 35-year-old Ukrainian master, who was born in Simferopol on January 17, 1987, has a perfect 20-0 professional record after winning 20 of his 20 matches, 13 of which were close calls. He is obviously much shorter than Fury, at 6 feet, three inches (1.91 meters), with a reach of 78 inches (1.98m).
Usyk was destined for professional greatness following a spectacular career that saw him amass an incredible 335–15 record and win an Olympic gold medal in London in 2012. Usyk was an absolute beast at cruiserweight after going pro, defeating Krzysztof Glowacki in Poland in September 2016 to win a world title in just his 10th fight.
After that, Usyk proceeded to play the role of the road warrior, winning significant fights against opponents like Tony Bellew, Mairis Briedis, Marco Huck, Michael Hunter, Murat Gassiev, and Marco Huck—all in their own home court.
When Is Fury V.S. Usyk?
All the sources prior to Fury vs. Chisora 3 indicated that a Fury vs. Usyk championship bout was almost certainly scheduled for late February or early March 2023.
However, it now appears likely that the big fight will be postponed after Fury claimed following Chisora's victory that he needed elbow surgery and that the recovery period will be 6 to 8 weeks. A Usyk fight would probably be postponed until the summer of 2023.
Where To Watch The Fight?
As boxers frequently have multiple promoters, which means they are tied to different TV networks, this is typically the barrier for many huge matches.
Due to a significant contract "The Gypsy King" secured with the Worldwide Leader, Fury's fights taking place in the United States have been broadcast on ESPN. In the UK, he competes on the BT Sport Box Office network.
On the other hand, although all of Usyk's recent fights have been shown on DAZN worldwide and Sky Sports Box Office in the UK, it appears that he is not affiliated with any one network. At this stage the smart money would be on BT Sport and ESPN getting the important rights.
How Much Does The Ticket Cost And The Venue Look Like?
This matchup will undoubtedly take place in Saudi Arabia as initially reported, but not finalized yet.
Last summer, the Saudis were prepared to put up a sizable $155 million site fee to host a Fury vs. Joshua match (which, of course, never took place), and sources indicate that a similar amount is available for this bout.
At this point, it is unlikely that Fury will succeed in his quest to rule the world unchallenged on British soil.
Final Thoughts
Tyson Fury will be facing Oleksandr Usyk in an undisputed title fight that will rock the world of boxing, and we can reveal all of the latest news around this big event. Because Usyk now holds the WBA, WBO, IBF, and The Ring magazine belts, this match is very significant. Fury, meanwhile, presently has the WBC championship.
As such, all of the heavyweight boxing division's titles are up for grabs, therefore the winner would take them all home. Despite the fact that the schedule and venue is not yet final, the Fury and Usyk match is surely going to be massive and historical.