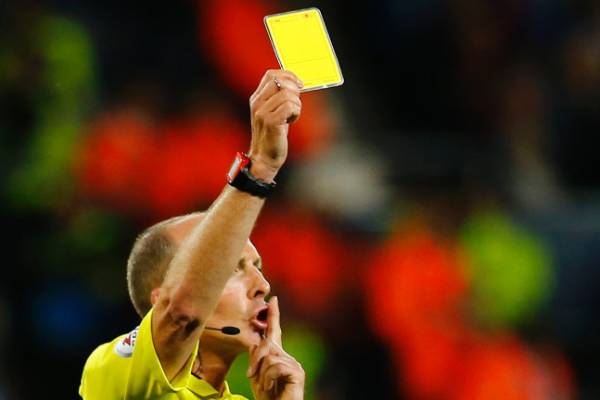 Football is a popular sport to bet on, given its wide variety of wager types gives bettors lengthy entertainment. Though most bettors enjoy those conventional wager types, trying unusual betting options for a new experience is more exciting. Betting on cards in football is one of the special bets that can be a good alternative if betting markets become boring. They are called special bets since they differ from popular bets or the over/under markets. Betting on cards is not only for pure entertainment; average bettors can also profit from this.
However, the amount of money wagered in this type of bet is not usually high, affecting the odds. Nevertheless, bettors can still have a chance to win whether a team will win or lose as it mainly relies on the team's attitude in the game. Hence, bettors should be good at predicting which player will most likely be sent off or booked in the game.
There are different card-related bets in card betting but betting on the number of cards shown in the match is the most popular. To know the opportunities that card betting in football can offer, take a look at these details about betting on cards in football.
Red Card
On some betting options, it can be disappointing when a referee shows a red card in the middle of a match because a player will be sent out, which puts the team at a disadvantage. However, card betting in football is way different. Seeing a red card in a match can mean winning opportunities for bettors. Hence, this kind of bet is quite suspenseful. A player can get a red card if the referee has shown two yellow cards in the same match. A yellow card serves as a warning that the player can nearly get a red card.
There are a variety of bets on the red cards, including the three-way market odds for both opposing teams and "no red card shown." Usually, there must be at least one player that will receive a red card to win a bet. When betting on red cards, it is important to not only consider the attitude of the players in the match. For example, some referees like to show cards, while some try to avoid showing them. Being observant of this kind of behavior can increase prediction accuracy, which could help win bets.
Yellow Cards
Among the card betting options, yellow card betting is the most popular one. Compared to red cards, it is easier to get yellow cards in a football match. In addition, a football game gets more exciting to watch when there are violations because players are more challenged. Thus, many bettors take a look closely at these types of bets. There are many options for betting on yellow cards, including the total number of yellow cards or warnings received by players in the same match, the team with more yellow cards, and handicap on yellow cards.
However, handicap on yellow cards is quite a difficult bet because it is a matter of probabilities rather than analytics. Before betting on yellow cards, a bettor must be aware of certain rules, such as cards that are being shown at the end of the match's normal time are not counted. In addition, only one yellow card is counted if a player is removed for two yellow cards, and cards shown between halves are counted in the second half. Therefore, it is best to look for matches that most likely have violations when betting on yellow cards.
Booking Points
If it is hard to choose between yellow and red card betting, bettors can have the booking points betting option. In booking points, cards have corresponding points depending on the card's color. For example, for most bookmakers, a yellow card shown in the match is equivalent to 10 points, while the red card has higher points equivalent to 25 points.
If two yellow cards are shown leading to an automatic red card, it will be 35 points and not 45 points since the second yellow card is not counted as a rule. The total booking points accumulated will be the basis for under or over the marker. Hence, this is a kind of straightforward bet.
Second Yellow Card
The first yellow card signifies a warning for a player that commits a violation in the match. Receiving a yellow card might be thrilling enough, but having a second yellow card will be even more thrilling. Because after that, the player can get another card, but it is already a red card. A yellow card is still good because a player can still have the chance to play.
However, a red card is a different story. This means that the player cannot play the same match anymore. For bettors, a second yellow card has greater points for booking odds rather than one yellow card. Thus, having it is an excellent advantage to earning profit.
Conclusion
There are many types of bets that bettors can take advantage of in betting on cards in football. It can also be a fantastic alternative betting option for those who do not like to use analytics. However, card betting has a different rule compared to those popular bets. Hence, it is better to explore some tips first.