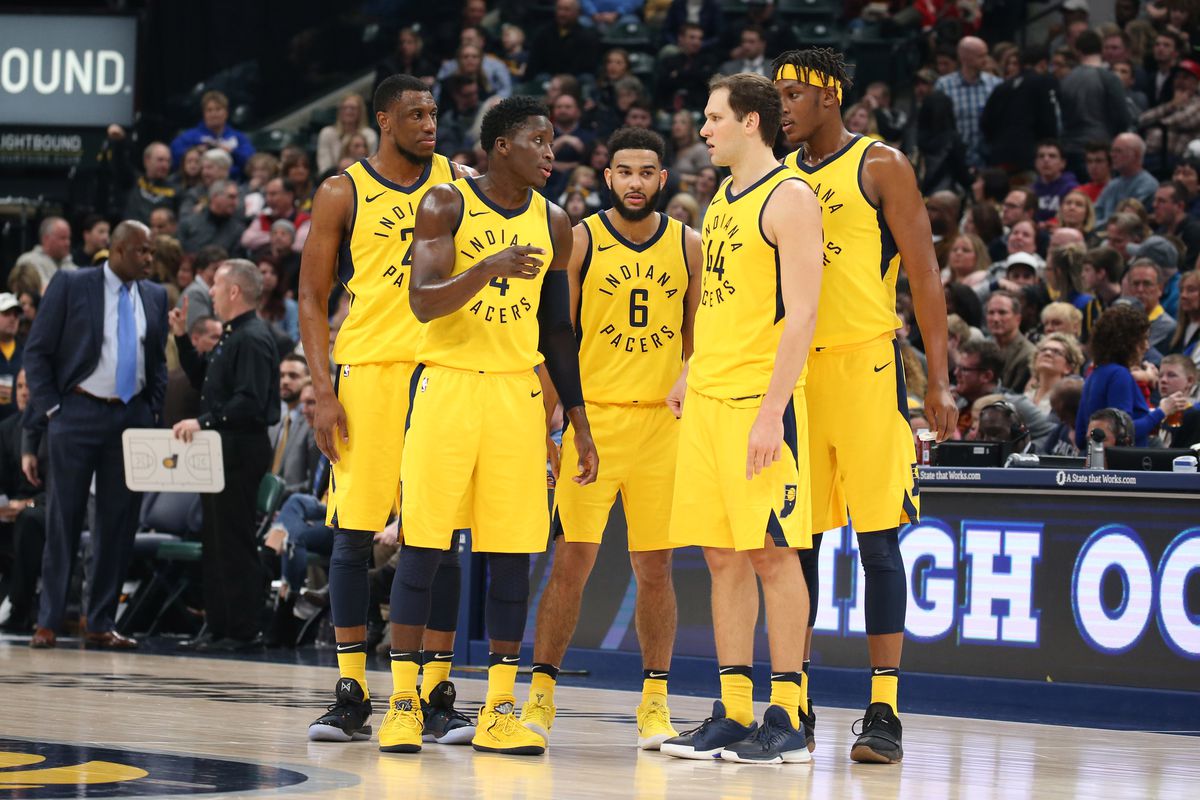 In this article, we're going to talk about one of the most underrated teams in the Eastern Conference that is the Indiana Pacers and why people should stop sleeping on this team and consider them as a legitimate contender in the East!
With young emerging players and the blossoming of Victor Oladipo, the Indiana Pacers have surprised everyone last year when they won 48 games and took LeBron's Cleveland to 7 games, however we still do not hear enough about this team despite them making more strides to start this year, but we're going to list a few good reasons why it might be the time for Indiana Pacers to make a legitimate run in the Eastern Conference and maybe even contend for the NBA Finals!
Why should the Pacers be considered as East's elite?
After going 48-34 last season and taking the eventual EAST champions to 7 games, the Indiana Pacers have so far shown this season that it was no fluke as their young players like Sabonis and Turner have improved their play with Sabonis now averaging 15/9/3 on 60% shooting after putting up 11/7/2 on 51% shooting and Myles Turner improving his defense with his blocked shots average raising to 2.8 after avg 1.8 last year which is a huge jump! Furthermore, the Pacers have added depth to their squad with players like Tyreke Evans, Doug McDermott, Kyle O'Quinn and rookie Aaron Holiday who has come through when called upon which allowed them to continue their success when key players went down, prime example Victor Oladipo. When Oladipo went out the Pacers managed to hold it down by going 7-4 in his absence and now with him back it seems like they are primed to win a lot of games and really push for the top seeds. The Indiana Pacers are 19-10 right now and are .5 games behind the Bucks and sit above Philadelphia and Boston despite their star man missing 11 games, just think about this!

Defense
The main reason why the Indiana Pacers are so good is their defense. Last year the Pacers were in the middle of the park with their defense, however this year they have elevated in this aspect of the game which is primarily why the Pacers are an even better team this season! The Pacers are 2nd in DEF RTG this season at 102.4 and they are giving up the least amount of points in the league at 101.3!
Why are Indiana Pacers so good defensively? Well, they have Victor Oladipo who led the NBA in steals last year and made first team all defense and Myles Turner who is one of the most elite shot blockers in the league. Furthermore, the main reason for Indiana's success on the defensive end is primarily because they're a very hard working team. Indiana have many players who love to get at it at the defensive end of the game and they have a great team cohesion, they have players who know when to be at the right place, they have dudes who can switch and most importantly the communication of the team is on point. The Pacers in fact have 6 guys who are in top 26 in defensive rating (Oladipo, Turner, Sabonis, Evans, Young and Joseph) which proves that team defense is absolutely elite. We've seen the Pacers already lock down some of the best offensive teams in the NBA like Houston, Milwaukee, Sacramento, San Antonio who have all been held under 100 points. The Pacers in fact have held 12 teams under 100 pts this season which is nearly half of the games.
How did the emergence of these Indiana Pacers happen?
Last summer, absolutely nobody believed that the Indiana Pacers would be among EAST's elites by this point. When the Indiana Pacers traded their then star man Paul George for Victor Oladipo and Domantas Sabonis who came off disappointing years with Oklahoma City Thunder, many believed that Indiana were robbed and they were destined for a rebuild.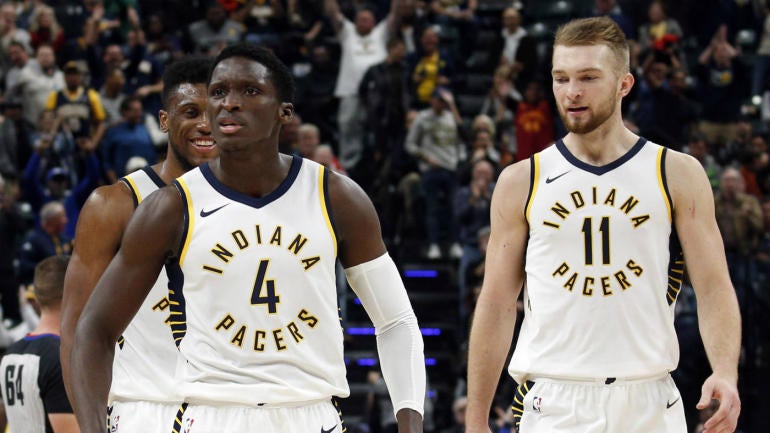 However, what we didn't see coming is the immediate impact that the two acquisitions made to elevate the Pacers and make them a playoff team right away! In his first year as a Pacer, Victor Oladipo turned himself into an allstar as he elevated his numbers from 15/4/2 to 23/5/4 and became a 1st team all defense player meanwhile Domantas Sabonis went from a 6 ppg 4 rpg guy to a 11/7 guy and now 15/9! The trade for these two have proved to be the right move for the Pacers and now many believe that they in fact ended up being the winners of the trade and essentially improved after Paul George was traded.
Furthermore, the Pacers have been consistently improving their depth. In the past two years we've seen them add great glue guys like Thaddeus Young, Cory Joseph, Bojan Bogdanovic, Tyreke Evans, Doug McDermott who have all came into the team and became either good starters or solid players off the bench which allowed Indiana to have one of the best benches in the league and making them one of the deepest teams in the league and now as Indiana's young players continue to develop and they're surrounded with solid veteran guys around you can only expect this team to consistently improve and definitely hang around for many years to come!
What is the ceiling for the Pacers this year?

The Indiana Pacers can well and truly go all the way to the East Finals and maybe even potentially win it this year! It is definitely possible for this franchise to already take this step. Now whether they can win the title is doubtful as of course out West you have the Golden State Warriors who let's be honest will win another title this year assuming they stay healthy. Indiana's rivals in the East right now are Toronto Raptors, Boston Celtics, Philadelphia 76ers and Milwaukee Bucks who are all considered as contenders in the East right now. Can the Pacers beat all of these teams? Yes!
There's still a huge question mark about each of the other teams right now. We've seen Toronto underperform in the playoffs despite good regular seasons in recent years and whether they can overcome that barrier is a question plus Kawhi's health is still suspect. Boston have to figure out their chemistry with Kyrie and Hayward back which they have seemingly done but it has happened because some of their key guys got injured and that freed up the rest of them so when everyone is back again how will that work? We've seen the 76ers struggle against an elite defensive slow paced team like the Pacers are right now last year when they got beaten by Boston and whether they can overcome their struggles come playoff time and the Bucks are really just as good as the Pacers and are in the exact same place which means Indiana can compete with them for sure and beat them, we've already seen Indiana absolutely shut down Giannis and the Bucks this year, they've also beaten Boston and Philadelphia too this season which just proves that they can go at it with the best.
What's the future and what do the Pacers need to become title contenders?
The future is clearly very bright for the Indiana Pacers as their 3 main players are all still at a very young age. You've got Oladipo who's 26, Turner and Sabonis are 22 and these guys are really the key pieces to the future right now the Pacers. What Indiana need is these guys to really continue to develop the way they have so far in their careers. At 26 Oladipo is a star and the way he's trending it's only a matter of time until he becomes a top 10 player and a superstar in the league. Sabonis is trending the right way and is seemingly coming along as that second guy for the Pacers with his rapid improvement and could truly elevate himself into a very efficient 20/10/5 guy for many years to come if he's given the minutes. Myles Turner has also improved, but what the Pacers would like to see from him is him to get better on the offensive end. With Turner becoming an elite defender, his scoring still hasn't really improved as he's still just at 12 ppg and if he can elevate that to 15+ ppg the Pacers would get even better.
With Sabonis and Turner improving consistently, the Pacers really could have one of the best frontcourts in the league if not the best a few years down the line and with Oladipo turning into a potential superstar, you could see a big 3 brewing in Indiana! If the Pacers can continue to put the right pieces around these three guys like they've done so far then this team will be a legit NBA title contender for years to come and maybe just maybe somewhere down the line we'll see them lift their first NBA title in franchise history!
Pacers depth chart right now:
PG: Darren Collison, Cory Joseph, Aaron Holiday
SG: Victor Oladipo, Tyreke Evans
SF: Bojan Bogdanovic, Doug McDermott,
PF: Thaddeus Young, Kyle O'Quinn, T.J.Leaf
C: Myles Turner, Domantas, Sabonis
Prediction for 2018-19
Although we believe that the Pacers can knock off anyone in the Eastern Conference this season, the prediction for them is unfortunately is that they will fall short. The Pacers are 19-10 right now and if Oladipo and co stay healthy this team should be able to win more games than last year and hit a 50+ win mark. Realistically this team looks like a 52-54 win team and a 3-4 seed. The Pacers will get out of the first round, however they will run into Toronto or Boston come ECSF and will lose there is what we're thinking. They'll take either team to 7 but will essentially fall short because one of the mentioned teams above will have home court advantage in the end. Despite this, the Pacers will continue to grow and will essentially win the Eastern Conference within the next 3 years if they continue to make the right moves and the young players improve.