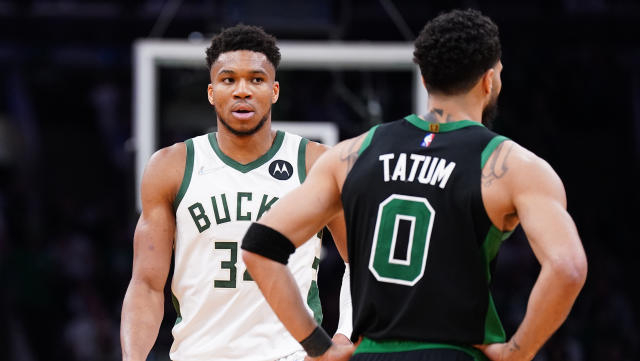 NBA fans are anticipating the beginning of the regular season as the 2022–2023 preseason begins. There are many different predictions for how the year will play out, and the NBA has announced its list of the top ten NBA players for this year to look forward to.
As today's best NBA players are named, some considerations were taken into account such as the performance from the previous season as measured by both conventional and advanced per-game statistics, present health, injury record, age, consistency, winning contributions, ability to improve teammates, off-court issues, postseason performance, and defensive and offensive impact.
That said, let's get to know the 2022-23 NBA best players who are listed below.
Luka Doncic
It's a head to head game between Luka over Giannis, but Luka Doncic will surely surpass all other basketball players this year. Even though Doncic is only twenty-three years old, he has already established himself as one of the all-time best postseason performances and has proven he performs well under pressure.
In addition, he has earned three first team all-NBA choices, which is more than Kyrie Irving and Damian Lillard have combined. Christian Wood was signed by the Mavericks in the first round of free agency, providing Doncic a potent interior weapon. It is anticipated that the Mavericks will make additional free-agent signings and that they will finish at least third this season, giving Doncic his first MVP.
Giannis Antetokounmpo
If Khris Middleton hadn't sustained an injury in the opening round, there is no question that the Milwaukee Bucks might have defeated the Boston Celtics. Also, the Bucks might have matched up well with the Warriors, giving them a fantastic chance to win another championship. It is because Giannis is an uncontrollable natural phenomenon.
He is a heavy favorite MVP practically every year because of his work ethic and the effort he puts into his games. There is almost no chance that Giannis won't rank among the top three players in terms of productivity if he stays healthy.
Stephen Curry
With the inclusion of a finals MVP, Steph Curry's resume is now complete, and he no longer has anything to defend on the court. For the next three years Stephen Curry's game is not regressing, and he is currently playing to solidify his place among the top ten to five all-time great players.
That said, Klay Thompson, Jordan Poole, and Draymond Green will likely make up the Warriors' main core when they return, and provided Stephen Curry stays healthy, he has a good chance of winning the MVP award once more.
Nikola Jokic
Nikola Jokic recently completed consecutive MVP campaigns and had one of the best seasons ever statistically. Jokic is among the most distinctive players ever, and his superb playmaking and vision make him unquestionably the finest passing big man. Besides, he plays slowly but effectively.
On the one hand, due to voter fatigue, Jokic might not have much of a chance to win MVP again, but the Nuggets will perform better as a team now that Jamal Murray and Michael Porter Jr. are back. With their comeback, Jokic's scoring might decrease slightly, but his output will largely stay the same.
Lebron James
It's obvious that Lebron James hasn't slowed down at all. James had one of his best scoring seasons, averaging over 30 points and finishing second in points per game only to Joel Embiid, even though the Lakers had a terrible season.
In addition, Lebron continues to be among the league's top passers and, when called upon, is arguably the most adaptable defender. It is anticipated that Lebron will achieve similar levels of success as he did the previous year, and the Lakers will make the necessary adjustments in free agency to once again compete for championships.
Kevin Durant
The Boston Celtics humiliated Kevin Durant in a playoff series that had the potential to destroy his career. He is one of the best scorers of all time, if not the best, despite these limitations.
Despite the fact that Ben Simmons' commitment to playing basketball is being questioned and trade rumors surrounding Kyrie Irving are rampant in Brooklyn, his statistics are indeed undeniable. Durant should score above 27 points per game on average and be considered for the First Team All NBA.
Joel Embiid
After having a pretty dominant year, it may seem strange that Joel Embiid only comes in this ranking list. However, there are a number of reasons for this that are not really his fault.
Although Embiid's statistics have actually improved in the twenty games he played with Harden, the latter guy has done best in scoring. Embiid has a long history of significant injuries, therefore he might not be able to stay healthy for the entire season.
Final Thoughts
Every year, the NBA does not only give its fans thrilling games, but awesome trades and exchanges that makes the league more exciting. With the current best players for the 2022-23 NBA season, there are many exciting games and performances to look forward to.