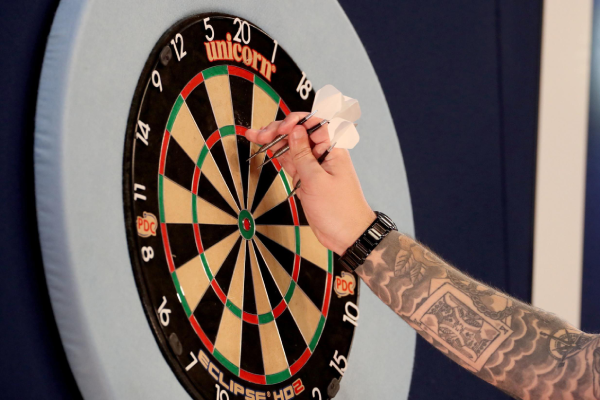 While sport has been missing in most part for the past couple of months, a couple of shining lights have appeared. One of those has been the PDC Home Tour darts tournament, which has found a way around the Coronavirus pandemic by putting together players from their own homes on different dart boards.

This innovative way has not only given sports fans something to watch, but it has also put darts in front of a new fan base. There will be people watching this tournament that have either never watched darts before, or fell out of touch with it. The latest betting tips have been sparse on the ground, but the PDC Home Tour has given us all something to watch and bet on.
PDC Home Tour Format
The format is very simple and easy to follow for the PDC Home Tour. We have action on 32 consecutive nights, the first 28 of those are played as a group format, with each player facing the others and the winner of the group advancing to the next stage.

Days 29-32 will be the knockout rounds, with the final being played on the 32nd and final day of the tournament. The knockout round will feature group winners, and will determine who will be crowned champion of this event.

Games are played as a best of 9 legs, with each player scoring from home on their own board, against their opponent who is in their own home.
Betting on the Games
Bookmakers are of course taking things very seriously and offering a wide range of betting markets on these games. Darts is a hugely popular sport in the UK, and many people like to bet as they watch games on TV. With this market already there, and a complete lack of other events, bookmakers new this would be popular and it certainly has been so far.
We have seen bookmakers with free bet offers for those who sign up to bet on the darts, just like we would see on a regular basis for other sports. These bookmakers have put darts, and in particular the PDC Home Tour at the centre of their service, and the betting public have responded by supporting them.
Can Darts Build on This Exposure?
The hope is that it can, and continue to bring in even more new fans. Things have been tough for every sport recently, but thanks to the innovation of the darts world, they have been able to turn a negative into what could be a positive.
When things return to something like normal, and darts players are able to return to playing on TV in the same room as others, those in control of the sport will be hoping that fans new and old follow that.

Should that happen, darts could come close to being the sporting winner of 2020, thanks to showing a willingness to find a way around the situation we find ourselves in and deliver some kind of product for fans.