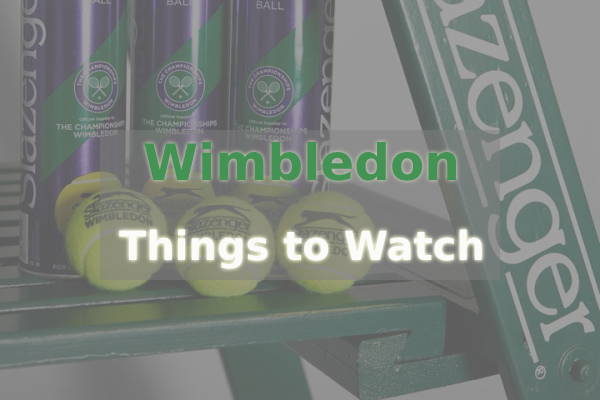 Wimbledon is just around the corner and here are some of the things to watch for the upcoming 2 weeks in this article!
Can Federer make it 9?
The record holding 8 time Wimbledon champion Roger Federer is yet again coming into this tournament as one of the top favourites to win as usual offered at 2.85 at Pinnacle only behind Djokovic who is the main favourite (2.30). Federer is entering the Wimbledon Championships in top form coming off a good run on Clay where he reached the Semi Final at the Roland Garros only to lose to Rafael Nadal and then followed up his good form on Grass winning his 10th title in Halle. Federer did have a very disappointing tournament last year after he lost to Kevin Anderson after leading 2-0 in the Quarter Final so without a doubt, we can expect him to be eager to bounce back and win the tournament again. Roger is in top form, this is his favourite Grand Slam and we should absolutely expect him to make a strong push for the 9th title of his career.
Who are the sleepers of the tournament?
There's always a few sleepers in every Grand Slam who can cause problems to the top guys such as Djokovic, Nadal and Federer. In this years Championships there are many very good big servers such as Milos Raonic, Marin Cilic, Kevin Anderson who have all had success in this tournament before all reaching the Final before but never winning it. Raonic is 27.15 to win the tournament his serve and volley is lethal on Grass and could for sure make another decent like, 2 quarters 1 semi and 1 Final is definitely not a bad tournament record by him. Marin Cilic himself has been to a Final 2 years ago, made 4 quarters in a row before last years nightmare from which we expect him to bounce back and of course Kevin Anderson, last years finalist who beat Roger Federer on the way can without a doubt go on another run.
Outside the big servers, guys like Nick Kyrgios, Stefanos Tsitsipas, Alexander Zverev and Dominic Thiem are long, long shot candidates. Kyrgios on his day can beat anyone on any day but his attitude is definitely a concern and he could either go all the way or go and lose to someone not even in the top 100 in the 1st round. Tsitsipas has been improving rapidly as is one of the best young players in the world who is slowly maturing into one of the best in general after reaching some major Finals and beating some top players over the past 12 months. Alexander Zverev has struggled so far in his GS career, never been past a Quarter Final in a GS and has not reached a QF in Wimbledon, but just like every young player his time is surely coming and this tournament could be the one where he breaks out on the Grand Slam stage. Furthermore, Dominic Thiem is one of the best players in the world though Grass surface is his least favourite and he has had some very early exits before and has never been to a Quarter Final of a Wimbledon, however given his talent and ability you can never write out Dominic Thiem who has clearly established as one of the best players in the world now and should be lifting a GS title sometime soon.
The return of Andy Murray
The anticipated return of Andy Murray at Wimbledon is expected to happen. He is not going to participate in the Singles, however he will be in the Doubles and is expected to pair up with Pierre-Hugues Herbert. Murray has already played doubles at Queen's and Eastbourne and even managed to win the Queen's tournament alongside Feliciano Lopez though he did lost alongside Melo in Eastbourne, Murray has shown some great signs in the doubles and many will be hoping that Andy and his partner Herbert make the title push here at the Wimbledon.
Can Nadal avoid another early upset?
Rafael Nadal has seemed to have made a living of losing at Wimbledon in early stages ever since 2012. Only once has he been through past the Quarter Final which was last year where he lost to Djokovic. Rafa has struggled at Wimbledon over the years losing to guys like Lukas Rosol, Steve Darcis, Dustin Brown, Nick Kyrgios when he was still just a next gen kid and Gilles Muller. Nadal of course did have a good run last year, but there's always that doubt with him on Grass whether he can avoid such shocks in the early rounds even when he won the tournament in 2008 and 2010 he had matches where he was pushed to 5 sets in early rounds so we could definitely expect some close matches from Nadal and low ranked player Set Handicaps could be bets to look out for.