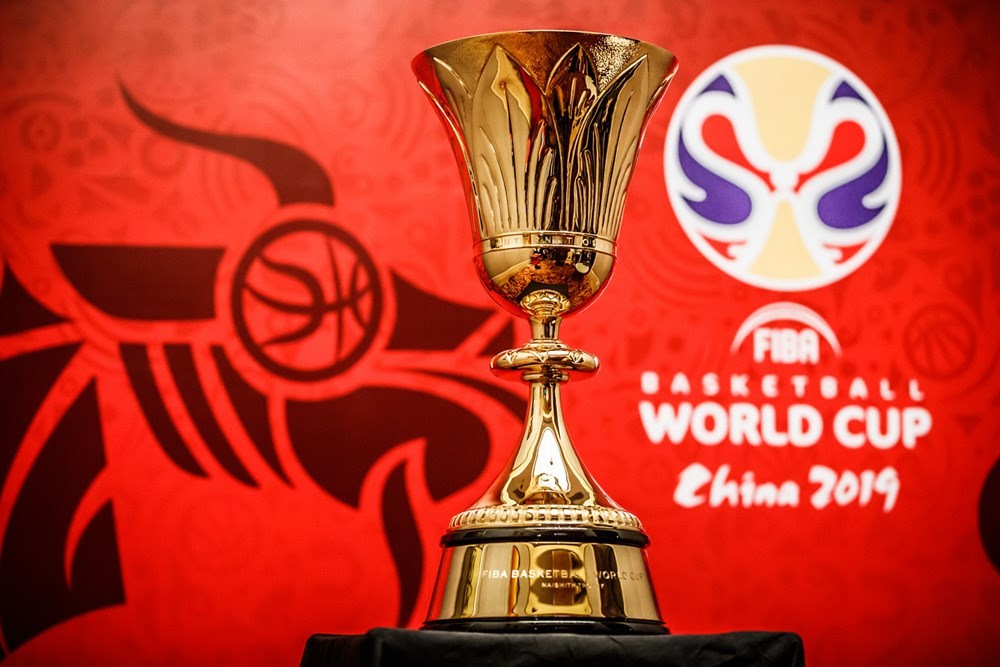 The FIBA World Cup is just around the corner and here are some of the top NBA players to watch from nations outside of USA!


Giannis Antetokounmpo (Greece): Without a doubt the start of the tournament! Giannis is the current NBA MVP and for the first time since 2016 he will be playing for his country Greece in hopes of winning them the World Cup. Giannis averaged 27.7 ppg 12.5 rpg and 5.9 apg and took the Bucks to the East Finals this season. It is going to be very hard for anyone to contain him in this tournament given his all around dominance on both ends. Considering how he destroyed the best league in the world this season, you'd have to say Giannis is going to have a HUGE World Cup and will be expected to deliver Greece a medal this year. Giannis is 2nd favourite at odds 5.00 to be the tournamens top scorer and his team Greece are the 3rd favourites to win the tournament at odds 13.00.

Nikola Jokic (Serbia): Another NBA Allstar on a European squad. Nikola Jokic is coming off a very good season with the Denver Nuggets winning his 1st allstar appearance taking them to 2nd seed and a West Semi Final. Jokic impressed in the Regular Season averaging 20/10/7 and then elevated his game even further in the Playoffs putting up 25/13/8 per game truly showing his star talent! Jokic isn't just a 20/10 big but he also can dish out 7/8 assists making him arguably the best all around offensive big man in the game who can score at will multiple ways and make plays for others and he's part of the reason why Serbia are one of the top favourites to win, in fact 2nd favourites at 5.00 odds to win the World Cup! Big expectations for Jokic for sure.

Patty Mills (Australia): Patty Mills night just be a role player in the NBA which a big performance here and there, but boy does he love showing out playing for his country. Patty has always been a consistent double figure scorer when he plays for his country including multiple over 20 ppg Olympics in 2012 and most recently 2016 where he finished as the 2nd top scorer in the Olympics. Mills is an explosive player and given that he gets to take a lot of shots for his country allowing him to get into his rhythm it makes him a very dangerous scorer and when he's on form which he normally is for Australia, he sure does provide a lot of high scoring performances which is something we should expect in this World Cup again. If Aussies go far, don't be surprised if Patty Mills ends up being the highest scorer of the World Cup which he's priced at 9.00 (tied 3rd favourite).

Danilo Gallinari (Italy): Gallinari is coming off a career season averaging his best 19.8 ppg and most efficient 46% shooting in the Regular Season. Despite a disappointing playoff performances even averaging near 20 ppg against the Warriors. Gallinari is going to be Italy's clear number 1 option, he's tall has multiple ways of scoring and can be very lethal from 3 if he gets going. Gallinari and Belinelli could be a very fun duo to watch in the tournament if they get their shot going. Gallinari will for sure be one of the top scorers in the tournament, offered at the odds of 15.00 to be the highest scorer and if Italy manage to go far then who knows he might be one of the top players in the tournament. Italy have had quite a few disappointing tournaments in recent history so they will be hoping that their talisman will show up after having a career season at scoring.

Bogdan Bogdanovic (Serbia): Bogdanovic is the favourite to win the top scorer award at the odds of 4.00 in this tournament, yes Bogdanovic and not his all star teammate Jokic! Bogdanovic has been a great representative for the Serbian national team and is arguably the best international team performer on the list as surprising as that may sound for a casual NBA fan. Bogdanovic is a former silver medallist at the World Cup and Olympics, also winning a Silver in the EuroBasket in 2017 with his big performances where he averaged 20 points per game alongside 5 assists per game. Bogdanovic has been a solid 6th man for the Sacramento Kings averaging 14/3/4 off the bench in just 27 minutes. He's a very good scorer and a solid playmaker and is for sure one of the top candidates to be the MVP and the top scorer considering he'll likely be Serbia's no 1 option to score even above Jokic and them being one of the tournament favourites.

Marc Gasol (Spain): At the age of 34, Marc Gasol is still going strong entering yet another international tournament for Spain! With his brother Pau Gasol not in the squad anymore, the weights fall on Marc's shoulders and what is arguably the weakest Spain squad in many years he will have to have a big tournament for them to even sniff some medals. Gasol has always been a good representative for Spain winning World Cup gold, EuroBasket Gold twice, Silver and Bronze twice and of course 2 Olympic Games Silver medals alongside that. Gasol is coming off a season where he became an NBA Champion for the first time putting in some big time performances to help Toronto Raptors win it on their way. He only averaged 9 points for them, but did average 15/8/5 for Memphis before getting traded and with more ball touches for Spain, we should expect Marc to be competing for one of the best players of the tournament. Spain are 4th favourites at 15.00 odds to win, Marc Gasol is offered at 15.00 to be the highest scorer in the tournament.


Rudy Gobert (France): Arguably the best defensive basketball player in the world at this moment. Gobert is going to have an opportunity to truly show his rim protection skills in this World Cup. Gobert is consistent double-double guy who is one of the best rim protectors in the NBA having won Defensive player of the year awards in back to back seasons and being 1st team all defence for 3 straight seasons. France are 5th favourites to win the World Cup at 29.00 and Rudy will be a key factor for them, arguably their most important player in this tournament ahead of Fournier and Batum even due to his constant ability to dominate the paint and provide double-doubles on daily basis. Gobert isn't a big time scorer, but everything else he does on the court will prove to be crucial. He's an EuroBasket and a World Cup Bronze medallist already. Gobert will be big for France if they run into teams such as USA due to their slashing play style, Greece with Giannis, Serbia with Jokic or even Spain with Gasol as all of these other teams have big time scorers at the rim and Gobert could well and truly have a chance to prove why he's one of the best rim protectors in the World Cup if France get far and face one of the top teams.

Jonas Valanciunas (Lithuania): Jonas Valanciunas is slowly starting to establish himself as one of the top big in the league after getting his move to the Memphis Grizzlies where he averaged 20/10 in the last 20 games of the season for his new franchise. Valanciunas is definitely Lithuania's main man right now, a team who is a 7th favourite to win the tournament at a massive long shot 51.00. Lithuanian fans will still be for sure expecting medals in this tournament and they will only be able to dream of that if Valanciunas has a big tournament alongside his frontcourt partner Sabonis of course on who we'll get into later. Valanciunas has all the ability to dominate the rim, he's had disappointing tournaments for Lithuania before, but has also had some big time performances too most recently really playing well in the 2017 EuroBasket despite Lithuania falling out early. Valanciunas should be a solid double-double guy for his country and if Lithuania get far, he will definitely have to have a big tournament.

Domantas Sabonis (Lithuania): Sabonis is starting to emerge as one of the best young bigs in the NBA and after 3 year absence when he was still a rookie, he's back on the national team who will be expecting huge things from him. Sabonis averaged 14/10 on 59/52/71 shooting splits OFF THE BENCH this season for the Indiana Pacers and despite a disappointing playoff series against Boston, he really has shown that he can be a dominant when he's on his game. He's very efficient, has multiple ways to score around the rim and can hit a 3 here and there though he doesn't take many of them. Sabonis will be hoping to follow his fathers Arvydas Sabonis footsteps in becoming the next legend of Lithuanian basketball and so far his career has for sure trended upwards at a very rapid pace. Expect Sabonis to have some dominant games in the tournament alongside Valanciunas these 2 could really cause a lot of teams problems in the paint this year.

Dennis Schroder (Germany): Schroder has not played many tournaments for Germany, but when he has he truly has been sensational. Schroder is a scoring point guard who can be very explosive when he gets going which is something we saw in the 2017 EuroBasket when he carried the German team to a Quarter Final beating France on the way and averaging 23 points and 5 assists per game throughout the tournament really bringing Germany back to life as a basketball nation for the first time since mid 2000s when Dirk Nowitzki was in his prime. Because Germany don't have many top quality players, Schroder becomes the obvious clear go to guy and is a player who will likely have to carry his nation again during this World Cup therefore we could see some very high scoring performances from him hence why he's the 4th favourite to be the highest scorer of the tournament at 10.00 odds, but that will likely not happen as Germany simply don't have enough to go far, but if they do then Schroder will definitely have an MVP type tournament.

Tomas Satoransky (Czech Republic): Tomas Satoransky has emerged as a very impressive back up Point Guard in the NBA and on international level has performed very well whether it's for Czech Republic or back in the Euroleague for Barcelona when he proved himself as one of the best European guards. Czech Republic don't have high expectations, but this is one player that could definitely have a big tournament considering he'll get the ball in his hands quite often. Satoransky averaged 9/3/5 in limited time this season and even became a regular starter for the Wizards after Wall got injured. He is a great playmaker and with Jan Vesely as his big (one of the best bigs in the Euroleague), he could form a formidable duo with him and be very fun to watch when Czechs play.

Nikola Vucevic (Montenegro): Despite his disappointing Playoff performances this year, Vucevic has truly emerged as one of the best bigs in the NBA having his career year averaging 20/12/4 and becoming an all-star for the first time. Montenegro aren't a great team and Vucevic will likely get the ball often which should lead to some high scoring performances by him. Vucevic can score in many ways including making 3s and against other European bigs he will absolutely dominate when he gets the chance. Expect Nikola to be a solid 20 ppg scorer in this World Cup. An NBA all-star playing for an average squad should be providing some dominant games even if Montenegro's tournament gets cut early.