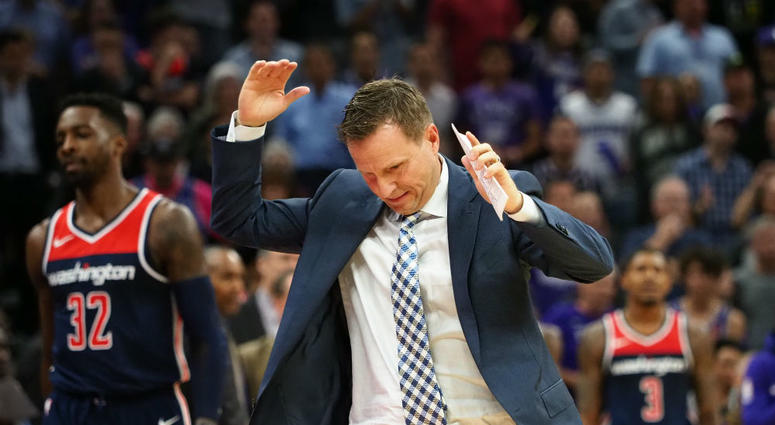 In today's article were going to look into one of the biggest disappointments of the NBA this season so far, the Washington Wizards. The Wizards came into this season with high expectations as John Wall has returned to full health, they've added a good Center in Dwight Howard, some nice depth players like Austin Rivers and Jeff Green in the summer however it seems like they've turned in a completely wrong direction as their inability to put it together on the court has caused them to start the season 13-21 which is only an 11th seed and it's already Christmas! If this continues there could be a real possibility of them missing the Playoffs completely. So what went wrong with the Wizards this season so far?
Lack of Defense
Washington Wizards are the 3rd worst defensive team in the league according to the defensive rating which is at 112.7 and the only teams that are worse are the 9-24 Knicks and the 8-24 Cavaliers. Yeah says it all really. Wizards have already gave up 120+ pts 12 times this season, 130+ pts 7 times, they've only managed to hold 3 teams to under 100 pts through 34 games those being the woeful Knicks, Cavs and a good Nets squad.
These defensively struggles are simply down to no effort on that end of the court, and a fact that completely proves it is the fact that they give up the most 2nd chance points in the NBA at 15.2. Sure they haven't had Dwight healthy but that stat just proves that the Wizards effort is not good enough and with better effort this simply wouldn't be the case because if they tried harder then the others would pick it up in Dwight's absence! The Wizards lack of effort has been extremely alarming this season as it's one of the biggest reasons to their disappointing start to the season and when they come to games switched off, the elite teams especially put up big numbers against them, just look at when Golden State dropped 144, OKC dropped 134, Houston put up 131 and 136 on Washington. It's simply ridiculous how badly the Wizards get torched on the defensive end and if they want improved success, that is point number 1 that Scott Brooks must address with his team!
Struggles on the Road
Wizards road struggles is arguably their biggest reason for the lack of success. Wizards are in fact 14th worst in the EAST when it comes to their road record as they're 4-15 and have lost 6 straight. Knicks, Bulls and Hawks have in fact got better road records than the WIZARDS which is simply unacceptable from Washington. Wizards don't only lose road games but they have been blown out many times. They're lost 10 road games by double figures which is 52.6% of their road games played this season and their average margin of the 15 road losses is a ridiculous 15.6 points! Wizards have also got the 30th best DEF RTG, yes the worst DEF RTG out of any NBA teams on the road this season at 115.3 while being just the 22nd best in the OFF RTG at 104.9 with their NET RTG being the 3rd worst on the road only above Suns and Cavs and that really sums it up for Washington. Their road struggles are ridiculous and if they want to get back in the hunt for the playoffs they MUST absolutely improve on the Road massively! Meanwhile their home record is actually decent, it's the 7th best in the East at 9-6 and they've won 6 of last 7 at home, but what's the point in that when you can't win on the road.



Chemistry/Lack of Leadership
This really goes back to last season. When John Wall went out with an injury and Washington started making strides last season in his absence, Marcin Gortat took a shot at him tweeting about enjoying his basketball to which John Wall responded to "lol". Obviously now with Gortat gone, the Wizards have brought in another Center who has had a history of breaking up team chemistry in Dwight Howard, but with him out for most of the season you can't really put the blame on him.
The reason for Washington's lack of chemistry is simply the fact that they have had a bunch of dudes with different personalities that just didn't fit together. You have/had Wall, Beal, Rivers, Oubre, Howard and let's be fair these guys all have a history of not co-existing with teammates and when you put all of them together it just simply was never going to work. Now the Wizards did trade Rivers and Oubre for Ariza which should hopefully bring more team cohesion with a veteran Ariza on the squad whose impacted most teams when it came to winning throughout his career.
When it comes to leadership, the Wizards don't really have that great leader there. Wall and Beal are stars but not known as great leaders, Howard as mentioned is known as more of guy who ruins team chemistry than being a good leader and everyone else just aren't leaders on that team. The Wizards don't have that "glue" guy that can get the team together and call them out when things don't go right or calm them down and tell them it'll be alright so when things go wrong the Wizards just tend to let go of the rope and lose games.
Not being able to get over the hump in the Playoffs
Everyone have been waiting for the Wizards to take over the EAST in the recent years but year after year this team just continuously have let everyone down as they just couldn't get over the hump that is the 2nd round! Between 2014-2018 the Wizards made the playoffs 4 times in 5 seasons and 3 times they have been knocked off in the second round. The closest they've been to ECF was 2017 when they lost to Boston in 7 with star man John Wall finishing that game shooting 0/11.
When the Wizards had been eliminated in back to back years in 2014 and 2015 in the second round, many people weren't worried about it as they were still a young team, but little did we know they would never get over that hump as they gained experience. In 2016 they missed the playoffs, but Beal did miss over 20 games and in 2017 it seemed like they were back on track with a healthy squad as they had their highest win season in a Wall/Beal era with 49 wins but once again couldn't get over the hump as mentioned losing in the second round.
However with the positivity of the 2016-17 season, it only seemed like the Wizards were destined to make that final step last season, but it didn't go quite that way with Wall not being able to get healthy, missing over 2 months with a surgery and a 1st round exit the Wizards couldn't live up to expectations and now this year they look like a team that are simply past it now and maybe the playoff disappointments have taken its toll on them. Whatever it is, it really is time for them to break it up as this core just can't get it done. Whether it's stars choking or injuries ruining their seasons in the past few years, it's always something that ends the Wizards seasons in disappointments.





What is the future of the Wizards and what should they do?
It's best that the Wizards get rid of one of their star men Beal or Wall, preferably Wall who has a ridiculous 40+ mil contract per year and go into rebuild mode. This team is past it and it's clear as day as much as the Wizards fans may not want to admit it, it's best that one of those guys go and the Wizards go into tank mode and try to get a potential future star in the Draft. We've seen Wall and Beal both be in trade rumours but it seems unlikely that they'll pull the trigger this year after making a trade for Ariza which clearly indicates that they'll try to make a run this year again. We don't believe in Washington making a run however, as much as they may believe that it simply isn't going to happen.
At best, the Wizards may get to the 7th/8th seed this season, but will get beaten in 4 or 5 in the first round by someone like Toronto, Milwaukee or Boston and that would be their season done. We're not even sure if they can make the playoffs, but will give them a shot with the 2 allstar guards and playing in the weak East that they have that they may find some sort of positivity, but 1st round exit is the best they're going to get this season.
If they try and hold on to Wall and Beal then for years to come the Wizards will be a mediocre 35-40 win team, so it's best that they let one or even both go and try a build a team from scratch instead of wasting seasons going nowhere.
Summary
The Wizards are one of the biggest disappointments in the NBA right now at a 13-21 looking outside of the playoffs despite having one of the best backourts in the league. Lack of defense/effort, poor chemistry, struggles on the road and recent playoff disappointments clearly indicate that this team is finished and is time to go into a rebuild mode as they should trade one or both of their star guards and start from scratch! The Wizards are nothing more than a 35-40 win team right now which is the middle of nowhere and it's pointless trying to believe in a star core that hasn't delivered them an opportunity at a title run for 5 straight years now despite being dubbed as one of the best backourts in the league!