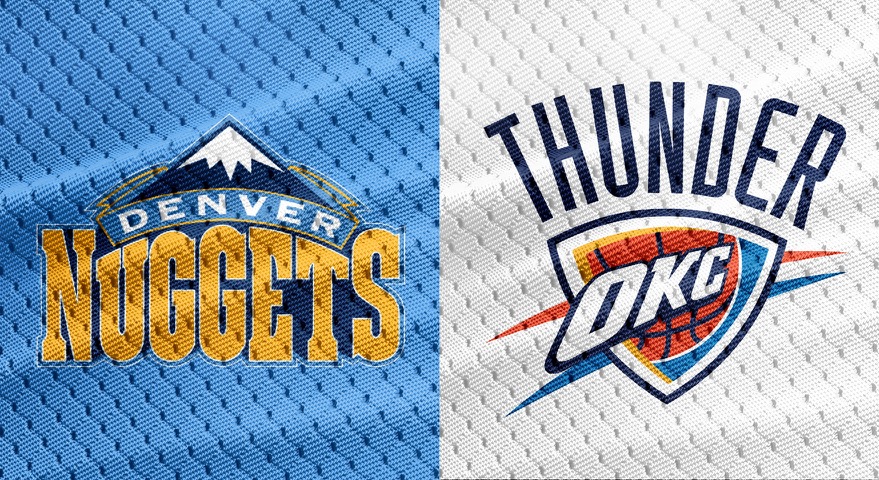 This Friday night we have two of the NBA elites facing up in Denver as the Nuggets host OKC Thunder! Nuggets are currently the 1st seed at 18-9 while OKC are 3rd at 17-9. Nuggets have unfortunately been hit with injuries, but despite that they've been able to hold it down by continuously winning games. OKC Thunder are healthy and are one of the hottest teams in the NBA after starting 0-4. OKC did lose their last game on Wednesday though to New Orleans and will look to bounce back and they are tipped as favourites here, but we can for sure expect Denver to give them a tough game despite many key players being out. Denver already beat OKC this year once in Oklahoma 105-98 and they'll look to make it 2-0 in the season series.
Denver Nuggets
It's been quite a crazy season for the Denver Nuggets. Injury riddled throughout and still they are the 1st seed in the West at 18-9 primarily because of their huge depth and playing some of the best defense in the league and the fact that they have Nikola Jokic of course. However, these injuries seem to be pilling on for the Nuggets as they're now down 2 key starters in Paul Millsap and Gary Harris alongside the long list of Barton, Porter, Thomas and Vanderbilt. Jamal Murray has also been dealing with an injury but is probable to play. Despite that, the Nuggets did manage to defeat the Memphis Grizzlies 105-99 in their previous game but surely they can't keep winning at this rate without so many key players?.Denver have had great success playing against OKC in the past couple of years and have already beaten them this year but the task is going to be far tougher now without so many key players. One thing that is in Denver's favour is they have one of the best home court and by playing at the altitude it always helps as other teams aren't used to it.
Predicted Starting Lineup – J.Murray, T.Craig, J.Hernangomez, M.Plumlee, N.Jokic
Injuries – I.Thomas, M.Porter JR, J.Vanderbilt, W.Barton, G.Harris, P.Millsap – OUT, J.Murray – Probable
Oklahoma City Thunder
OKC are coming off a disappointing loss in New Orleans 118-114 where they had their chances to win late in the game but poor decision making meant that they had to take the loss. However, despite that loss, OKC are playing some of the best basketball in the NBA at 17-9 (17-5 after their 0-4 start). Just like Denver, OKC have incredible depth and are one of the most elite defensive teams in the NBA. We've seen Russell Westbrook defer a little more to his teammates this season as his PPG and shots dropped which allows players like George, Adams, Schroder etc to play with way more confidence on the offensive end. In fact Paul George is the leading scorer on the team instead of Russ. OKC's biggest problem this year has been the inability to win on the road against playoff level West teams so tonight they really would like to make a statement and grab a win against a team they've struggled against recently. Andre Roberson remains out with an injury, but everyone else are healthy.
Predicted Starting Lineup – R.Westbrook, T.Ferguson, P.George, J.Grant, S.Adams
Injuries – A.Roberson – OUT
Key Facts
Nuggets are 8-2 in their last 10 games and have won 4 straight at home
Nuggets are 7-1 against Western Conference teams at home this season
Nuggets are 7-2 against above .500 Western Conference teams this season
Nuggets are 5th in DEF RTG in the NBA (104.5) and 4th in OPP PPG (103.7).
Nuggets are 8th in OFF RTG (110.7) but are just 16th in PPG (110) because they're only 27th in Pace (98.50). Efficient but slow offense.
In his last 5 games Nikola Jokic has averaged 20.4 ppg which is 3 pts more than his season average. Picking up the slack
Nuggets have beaten the Thunder in 5 of last 6 meetings.
OKC Thunder are 1st in DEF RTG (101.9) and 5th in opponent PPG (105.2). They do play at the 6th highest pace (103.33) which is why the PPG is inflated.
Despite their dominant defense this season, Thunder did get sloppy recently giving up 114.2 in their last 4 giving up at least 112 pts in each game.
OKC are only 17th in OFF RTG (108.0) but 11th in PPG at 111.7. Inflated pts because of pace yet again.
Russell Westbrook is only averaging 19 ppg his in last 5 games and hasn't score more than 24 in this run. He is averaging 11 rpg and 10.6 apg in this stretch however.
Paul George has averaged 30.5 ppg in his last 4 games, scoring 25+ in 3 of those.
Steven Adams has had 4 20+ pt games in his last 5 games
Thunder are only 2-5 against Western Conference teams on the road this season.
Betting Tips and Predictions
It's quite an interesting game tonight between two great teams. Both are fantastic defensively but play a different style offensively. Whereas the Nuggets like to move the ball, play it slow and efficiently, OKC tend to run way more with one of the fastest offenses of course because they have Russell Westbrook and throw up quick shots. Nuggets would be a great pick tonight only if they were healthy. Now despite beating Memphis without all of the mentioned players above that are out, you have to believe that the Nuggets aren't going to be able to keep it up especially without Harris and Millsap, plus they lost to the Hawks the game before that so you can see cracks appear in their play. OKC Thunder at 1.8 is the bet to make. OKC are coming off a frustrating game, they should come into this game mad and their roster is simply deeper for tonight as Denver have to throw their key bench players into the starting lineup which weakens their depth. We anticipate an under-ish game. With Denver slowing it down this will likely be in 100s for both teams so under 220 pts should come good here. Denver's lack of offensive guys against OKC's defense isn't really going to work, but they should be able to contain Oklahoma's offense themselves which is why this should be an under game. In terms of players, Steven Adams over 14.5 pts is a good pick here as he's been scoring big recently. OKC to win 105-100.
Match Odds (Unibet)
Denver Nuggets Win – 2.07
Oklahoma City Thunder Win – 1.79

Match Start – 15th December 2018 – 3am UK Time