FIFA WORLD CUP 2018 – France vs Argentina PREVIEW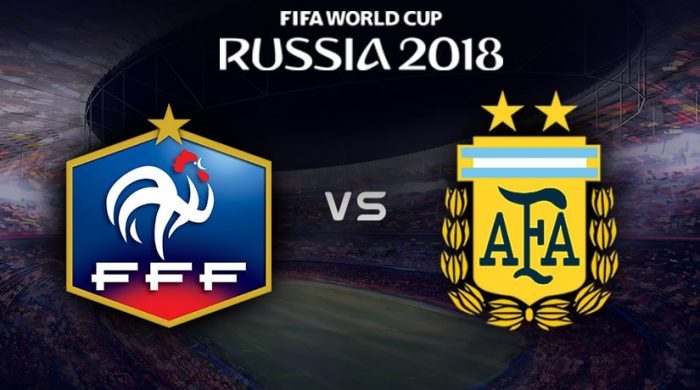 The knockout stage is upon us and what a way to start it off. It's two nations who still have hopes of winning the world cup regardless of their poor form showing during the group stages. The names on show include Griezmann, Messi, Mbappe, Aguero, Kante, Banega and many more. It's France vs Argentina and it's a game many are anticipating. One of these big boys will for sure be headed home while the other will go to the quarter finals. Will France pull out the win or will Messi lead Argentina? It's a tough call so let's get into this preview.
FRANCE
France are coming into the knockouts without playing great football, but its been effective in terms of getting results and winning the group. France have topped the group C which involved Denmark, Peru and Australia. They were expected to top and did it with a 2W 1D 0L record. In the first game France beat Australia 2-1 in a very tough encounter where they rode their luck and got a freaky own goal to win them the game late. In the second game France beat Peru 1-0, once again a deflection allowed Mbappe to sneak in and get a tap in to get the only goal of the game where France got pretty much outplayed, but they held on once again. In the last game, we saw some squad rotation from the French. In the final game the French pretty much settled for a draw with Denmark, it was the only goalless draw of the tournament, neither team really went for it both teams played like they were fine with a 0-0 draw because for France it meant they'd win the group for Denmark it'd mean they would advance so it was a sloppy game both ways the teams got booed off after it. Other than a few good moments from Fekir, France were awful against Denmark. Overall, it was an uninspiring campaign, France have lacked the fluidity in their play and they've pretty much grinded out results against lesser opposition to win the group.
Now onto strengths, weaknesses and key players this tournament for France. The main strength in the French squad would have to be their midfield and centre back play. Other than Umtiti playing basketball in the box to give Australia the penalty, the French have pretty much shut their opponents down. Their midfield of Kante, Pogba and sometimes Matuidi has shown good balance of defending and attacking. Kante has been absolutely class in this tournament winning the ball back while Pogba has been one of the best French creative players. Going forward Mbappe has shown some signs of brilliance, he was really good against Peru, not so good against Australia and barely featured against Denmark so even their only somewhat standout attacking player has been inconsistent in this tournament, and also Fekir has been dangerous coming off the bench he's been a player that might get starters minutes if the French continue to struggle going forward. France have shown some weaknesses in this tournament. The play of Griezmann has been very disappointing, we've not seen him put in a good performance yet, he's not linked up with Giroud as fluently as he did in the Euros and overall his lack movement has limited France's attacking play. France's full backs have also proven to be a weakness. It was predicted that they'd be suspect and neither full back has done anything special yet, they've rotated them and even then not one stood out. Pavard has been shaky, Lucas has been average, Sidibe and Mendy barely played. Overall it's been a shaky tournament by France. Going forward Griezmann especially has to wake up because he's the main guy on that team, he's the goal scoring machine and he normally shows up in big games so maybe because we're now in the knockouts he will finally wake up.
ARGENTINA
It's tough to find words to describe Argentina's campaign so far so we're just going to stick by "lucky". Yes, Argentina just about squeezed through their group with a late winner by Marcos Rojo against Nigeria. Overall, this campaign has not been good from Argentina, they could do and should do much better and they are given new life by advancing to the knockouts. Everything that happened in the group stage goes out the window now, Argentina must focus on this game, a win here and it could all of a sudden turn a horrible tournament into a tournament where there's hope to win it. Argentina finished second in a group that featured Croatia, Nigeria and Iceland. The group was topped by Croatia with 9 pts and then Argentina battled it out with Nigeria and Iceland for the last qualifying spot. Argentina finished with 4 pts 1W 1D 1L which was enough for them to advance. They started the campaign off with a 1-1 draw against Iceland, they dominated the game had 27 shots, way more possession but Icelandic defence held out. In the second game we saw Argentina crumbled, they lost 0-3 to Croatia they made mistakes, looked awful going forward, they simply looked like they would be heading out after that game because it was that bad. In the final game, Sampaoli made some changes including a goalkeeping change and a new formation which led to Argentina beating Nigeria 2-1. However Argentina did not look their best again. It was their best performance, but it's still a performance on which they have to improve. They took the lead, then conceded and looked like heading out until Marcos Rojo ran into the box and connected on a volley to give them the 2-1 lead in the 86th minute. Against Nigeria, one thing that we can take away is that Argentina showed great mentality and Messi finally broke through with a goal which may kick start his campaign. It was a horrible group stage campaign for Argentina with a heroic finish. Now there's new hope.
Argentina absolutely had more weaknesses than strengths so far. Looking at their strengths other than showing good mental strength in the final game and coming clutch with a win, there really aren't anything else to brag about. They've been terrible, they'd be heading home if not for late heroics against Nigeria. Argentina had a lot of weaknesses. They were awful at the back, their goalkeeper Caballero had to be changed for Armani a first team debutant for Argentina so we don't really know how he's going to deal with pressure against a top side, he did well against Nigeria but facing France it will be a much tougher test. Argentina's attack has underachieved, Higuain a no show, Aguero very quiet other than his goal and Messi could do better although he scored a huge goal against Nigeria. Their midfield might get a pass because Banega has supplied some great balls while Mascherano has been a warrior for Argentina. Overall there's been more bads than goods for Argentina which can still be turned around in these knockouts.
Keys/Tactics
Given the fact that it's the knockout phase, both teams will attempt to go for the win, but will be cautious at the back. The midfield battle is going to be the key in this game, most importantly Kante and Pogba vs Mascherano and Banega. You've got two defensive minded midfielders and two creative midfielders in a battle. Whichever ones come through in this game better will decide the winner in our eyes. The teams have similar level attacks, you have Messi Aguero Higuain Dybala Pavon to pick from for Argentina where as France have Griezmann Giroud Mbappe Lemar Fekir Dembele . France's backline is suspect due to poor full back play, it's kind of similar for Argentina too. Only advantage that France have is a goalkeeper who has been apart of these type of matches in Lloris whereas Argentina have a guy who just made his debut against Nigeria in Armani where as Caballero has been awful and its doubtful he'd start. From top to bottom if you look these sides are quite evenly matched. Argentina's coach Sampaoli loves to play high press football, France love to move the ball and try to find spaces for their star men Mbappe Pogba Griezmann to get in. Argentina must make sure to prevent Giroud and Griezmann link up because even though it hasn't worked in this tournament, it has shown to be one of the biggest strengths in French play, just watch the Euros 2 years ago. Argentina must get Messi on the ball as far forward and as much as possible, he can't be picking up the ball in midfield and trying to break defences down from there. Sampaoli's biggest dilemma will be whether to start Higuain or Aguero at striker. As for France their defence have to be switched on, Messi and Argentina will be the toughest assignment yet and they will truly test France. Argentina like to play on the wings which is something they could exploit with France having average full backs. Meanwhile France can do exactly the same with Mbappe, Dembele or Fekir coming up against Tagliafico and Mercado two very suspect full backs on Argentina's side. The teams are really evenly matched. Whoever creates more chances will win which is why midfield play will be the biggest key in this battle.
Prediction
This is the toughest game to predict. These are two evenly matched sides, who have similar styles and are both performing below par so far but have grinded out results to advance. Expect both teams to try to come forward, but neither will throw too many bodies forward unless they're down because it's the knockout phase and one mistake, one counter and it could be over. The French have a slightly better midfield in this game which is where we think the game will be won. Pogba Matuidi and Kante partnership has been very good for years now, whereas Argentina have an ageing Mascherano, Banega and Perez which is an ok midfield. We think that France's midfield will come through on top in this game which will essentially decide the winner. Argentina may have Messi, but we've seen him get shutout in this tournament due to Argentina's lack of creativity. France might not be playing their best football, but Argentina have been even worse. All around France have more depth and if the game went to extra time they'd have better players to bring on. Overall, we just think France are the better team, Griezmann will eventually come through as he always does in the big game and they'll win 2-1.
ODDS – Decimal (BET365)
France Win (90 mins) – 2.45
Draw (90 mins) – 3.00
Argentina Win (90 mins) – 3.50
To Qualify – France 1.66 – Argentina 2.10

KICK OFF – 30th June 2018 – 3pm UK Time