FIFA WORLD CUP 2018 – Croatia vs Denmark PREVIEW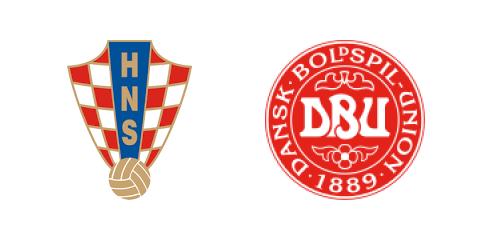 One of the best sides in the tournament Croatia face Denmark in the knockouts. Croatia have shown great football with their dominant midfield so far winning every game, meanwhile Denmark have grinded out results and advanced with 1W 2D. Croatia are coming as big favourites, but can Denmark led by Eriksen pull off a surprise?
CROATIA
You could argue that Croatia have so far been the best team of the tournament the way they've performed. However all that would go out the window now if they failed to win. Croatia have dominated what was called the "group of death" edging out Argentina, Nigeria and Iceland for top spot beating all three of them in good fashion and being one of the only three teams to pick up all 9 points in the world cup group stages. To start off Croatia beat Nigeria 2-0 in a very good performance, they pretty much shut Nigeria out going forward and took their chances going forward. In the second game Croatia sent a clear message to the world by beating Argentina 3-0. It was an even game until Croatia took the lead in the second half and from then on they simply demolished Argentina in what we'd call one of the better performances by any side in the tournament so far. In the final game, Croatia rested a lot of key players but we saw how much depth they have because they managed to beat a tough Icelandic side 2-1. Their final game was definitely the toughest one yet, a last minute winner by Perisic got them over the line however. We saw Croatia use many fringe players and they came through. Overall Croatia haven't shown any real weaknesses so far in the tournament, but if you had to pick one worry about them is the CB pairing of Lovren and Vida because although they've been very good so far, there always is a chance that one of them could make a mistake, especially Lovren who is prone to making blunders at the back and it could cost Croatia. But other than that, they have incredible midfield, good striker and their depth is one of the best in the tournament. Modric, Rakitic and Perisic have lived up to all the expectations so far playing great in this tournament. Mandzukic hasn't scored yet which may be a slight worry, but you'd expect eventually to see him get it going. It's been a top class tournament for Croatia as we're speaking right now.
DENMARK
Many would say Denmark got fortunate to advance the way they've played, but they've took their chances and achieved what they wanted which is reaching R16. Now, Denmark will be hoping to advance even further. Sure, the task is daunting and the way they've played it doesn't look good for them but because this is the knockouts all it takes is one moment to change everything, an early goal a sending off or just catching a team on a bad day. Denmark have advanced from group C as runners up, it was a tough group that involved good nations which were contending France, good looking Peru side and a tough hard working Australians. Denmark started off with a 1-0 win against Peru in a game where one moment of magic from Eriksen to play a through ball to Poulsen who finished got Denmark the win. It was a game where luck also followed Denmark's side as Peru wasted many chances including a missed pen. Denmark were on the back foot but still won. In the second game, it was pretty much the same against Australia, but Denmark did fail to win drawing 1-1. Once again one moment of magic from Eriksen got Denmark the goal, but they couldn't hold on conceding from a pen. It was another game where Denmark surrendered possession, got outplayed but picked up a point which solidified their position. In the final game Denmark needed a draw and picked up a 0-0 draw against France (the only goalless draw of the tournament). It was a game where neither side really tried to score, barely any chances and Denmark did well holding off France to certify their place in R16. As expected the key players for Denmark have been Eriksen and Schmeichel. Eriksen has taken part in both Danish goals this tournament while Schmeichel has made a lot of important saves especially in the first two games. Also Danish defence has looked quite decent, it improved as games went on the main man has been Christensen playing very well at the back. The weaknesses from Denmark would have to be lack of a threatening striker and nobody else other than Eriksen have created, even Sisto has looked very average. Denmark will need someone other than Eriksen to create chances and either Cornelius or Jorgensen must put in a good shift up front because both of them have looked awful and it has limited Denmark's attacking threat.
Keys/Tactics
So far in this tournament we've seen Denmark surrender possession in every game which only means one thing, they're going to sit back and try to hit Croatia on the counters with Eriksen's through balls as most likely get away. Croatia have one of the best midfields as mentioned already in this tournament so we can't see Denmark all of a sudden trying to control the game when they failed to do so against Australia and Peru. Croatia will be the ones creating most chances, but Denmark will have their rare chances, when you have Eriksen all it takes it one moment and you could be through which is going to be Denmark's best hope that their star man can provide a moment of magic. However it's highly unlikely that Eriksen can alone carry Denmark past this Croatian side, someone else has to step up and help out whether its Sisto, Delaney, Poulsen or anyone else. As already mentioned either Jorgensen or Cornelius have to show more threat as a striker and try to cause problems for Lovren and Vida at the back and finally Schmeichel has to continue to perform the way he has because we all know that Croatia will have chances, they have players who can shoot from long range and Schmeichel will be called upon a few times. As for Croatia, they just got to keep playing the way they've had. They need Modric to play his best and if he does everything will click because he's the engine on that team and you'd expect him to perform since he's a very consistent player. Defensively they can't allow to be caught out by Eriksen's through balls and they must not allow any other Danish creative player to have a good game. If they shut everyone out, then it's very unlikely that Eriksen alone beats them since Croatia are too good for that. If Croatia perform they have in the group stages then we're almost certain they will win because they've beaten better teams than Denmark already.
Prediction
It'd be crazy to expect anything other than a Croatian win. Croatia simply have more game changers in this game than Denmark who pretty much rely on Eriksen to create everything. Sure the Danes will be tough to break down but when you have Perisic Modric Rakitic Kovacic Badelj to pick from in your midfield then Croatia should surely eventually find a way. They put 7 goals past Nigeria, Argentina and Iceland and their striker hasn't even got it going yet. Denmark have looked very sluggish. They got outplayed by Peru and Australia and if not for luck on their side they'd be out. They barely pose any threat going forward other than Eriksen as we've mentioned. Defensively they're tough but so are Croatia and Croatia simply have better players going forward so we can only see Croatia winning this game and winning it comfortably. Denmark can only win this if they get luck going their way, but its time that luck runs out. Expect Croatia to win 2-0/3-0.
ODDS – Decimal
Croatia Win (90 mins) – 1.85
Draw (90 mins) – 3.30
Denmark Win (90 mins) – 5.50
To Qualify – Croatia 1.36 – Denmark 3.00

KICK OFF – 1st July 2018 – 7pm UK Time