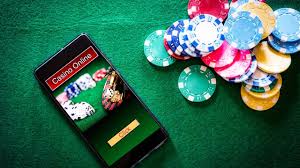 Every gambler is looking for a bullet-proof strategy to help them beat online slots. There are endless lists of advice on the internet for gamblers. However, what you need are the most effective strategies to beat each online slot game under the sun.
If you love online casinos with slots, this article is for you. We have compiled a comprehensive list of the best tips to beat online slots.
Let's dive in!
Leverage Special Online Casino Bonus Offers
The most effective way to beat online slots is to leverage special online casino bonuses. Thanks to these generous offers, you can boost your bankroll, as well as get a chance to win real cash. These offers usually crop up from time to time to ensure gamers have a wholesome gaming experience.
The special online casino offers come in the form of welcome bonuses, weekly bonuses, and seasonal bonuses. You can also get offers because you haven't played at an online casino for a while.
Each time an online casino launches a new slot game, they give players bonuses to encourage them to play. The generous offers can be a reload bonuses or even free spins. This is why it's important to read all messages and emails from your casino. If you're looking for new offers, then check out these slot sites. Use every opportunity to sign up for special bonuses and learn the pay tables for your online casino.
Check the Pay Tables
Modern slot games come with pay lines that have rules which govern how gamblers play. You need this information to understand how each game works. This way, you can strategize how to win.
There's usually an icon at the bottom of a casino's game screen that gives you access to the pay table. You should never jump into playing a slot game before you find out what the stakes are. The pay table tells you which symbols you need to aim for to get a fulfilling gaming experience.
Before you start playing, make sure you browse through the slot's winning combinations. This gives you an idea of how you need to play based on how much you want to win. You need to distinguish between scatter symbols and wild symbols because each one has a specific function.
Whether you're playing the bonus game or the main game, the pay tables will tell you the minimum and maximum prizes you're likely to get.
Because every online slot has a distinct and unique pay table, you need to compare different online slots casino options before you start playing. When you research, you're able to go with the online casino that gives gamblers the best profits.
To Bet Max or Not?
When you do your research, you'll realize that betting max is highly recommended. The logic behind this is that slots usually have multiple pay lines.
Even though this is true, you need to remember that numbers are usually randomly generated on online slots games. This means whether you bet max or not, your chances of winning stay the same.
What is the best strategy then?
Since online slots have different degrees of volatility, this should help you decide when to bet max and when to go with fewer pay lines.
A slot with high volatility will not pay you as often as one with lower volatility. However, high volatility slots have bigger wins than those with lower volatility.
When you're playing on a slot with high volatility, you should bet higher to capitalize on their big wins. When playing on low volatility slots, on the other hand, take a slower approach and bet lower because the aim here is to hit more wins.
Know which Online Slots are Worth
If you've been playing at the same online slots casino for a while without winning, maybe it is time to move on. Bear in mind that slots randomly generate winning number combinations.
This means that every spin you make has an equal chance of winning. The random number generators used at online casinos ensure that each spin is a unique event.
This means spending more money does not increase your chances of winning. That is why playing at an online slots casino when you're not winning is futile. If you've been on a losing streak, you should try your luck at a different casino.
Conclusion
When you're gambling, it's always good to get your facts right. These tips will ensure you know which slots to play at, and how to play. Make sure you go through the pay table of each slot before you start playing. Having the facts helps you make the right decisions so that you increase your wins.