Whether you believe darts is a sport or not, there's no denying it's a beautiful game to play. You don't need abs, muscles or the speed of Usain Bolt to win. All you need is good eye to hand coordination, concentration and a bit of patience.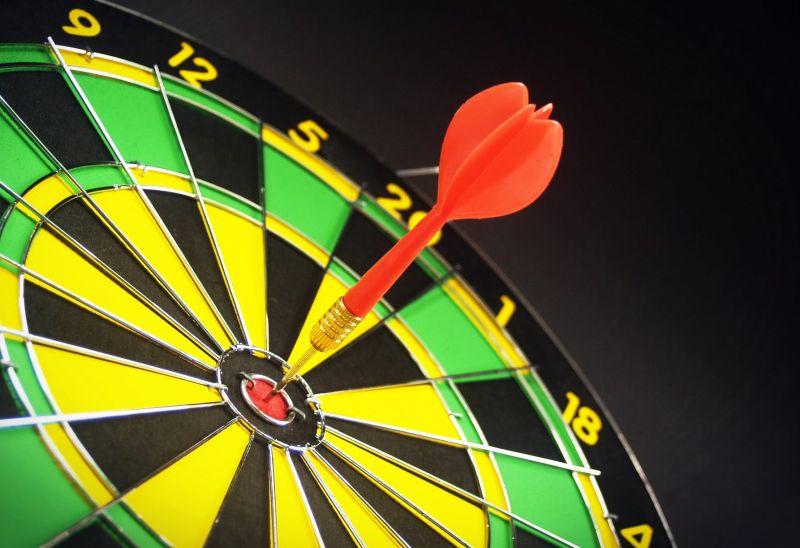 In many commonwealth countries, darts is treated as a sport with organized leagues and professional players. Players like Gary Anderson, Phil Taylor and Michael Van Gerwen make a living through the sport.
Now, you don't have to join a darts league to make money. If you like to bet on sports, consider betting on darts. Below are tips to help you do it the right way.
1—Darts Championships and Tournaments
As mentioned, darts is incredibly popular in the UK and other commonwealth nations. As such, there are numerous events for punters. There's even a World Cup of Darts and inter-country competitions involving European and North American countries.
That said, below is a list of some of the most popular darts tournaments to bet on:
With a prize pool of GBP 2.5 million, the World Darts Championship is one of the biggest darts events in the UK. It runs between December and January and is held at the Alexandra Palace in London.
Phil Taylor is arguably the best player at the event, having won it 14 times and finished in the finals 19 times. For comparison, no one else has won the championships more than three times or reached the finals more than five times.
The PDC World Darts Championship features five rounds. The first and second rounds consist of five sets each. The third and fourth rounds feature seven sets while the quarters and semis have nine and 11 sets respectively. The finals involve a best of 13 sets.
Below is a list of other popular darts competitions in the UK:
The UK Open—March
The Premier League: February to May
World Matchplay—July
Champions League—September
World Series of Darts—November
Grand Slam of Darts—November
Players Championship Finals—November
2—Betting Website
If you're going to bet on darts, you'll need a good sportsbook that provides darts betting markets. Competitions take place every month. But still, some betting websites only provide betting opportunities during the World Darts Championship.
In light of that information, find a bookmaker that provides regular darts tournaments. And then evaluate it to verify it's secure, pays out quickly, provides good odds and reliable customer service.
Truth be told, finding a truly great darts betting website isn't easy. It's time consuming and you can't effectively asses a sportsbook until you place a bet with them. Fortunately, you don't have to undergo the entire process of testing bookies to find the right one.
The best sportsbook review websites do the hard work for you. They place bets at different bookie sites to find the right one. All you need is to work on your darts betting skills. Then they'll recommend the right websites to place your bets.
3—The Quality of Odds
Part of finding a good betting website involves checking the quality of odds offered. Although it's an essential process, you can't benefit from quality odds by limiting yourself to one betting website.
Instead, a better strategy is to compare odds at several bookie sites every time you want to bet. Vitally, you can use an odds comparison tool to save on time and discover a wide array of matches with great odds.
There's a caveat, though. Don't focus too much on the potential profits from matches. Also, look at odds from the angle of making correct predictions. In other words, find high-value odds—games with undervalued odds promise the biggest returns for bettors.
4—Bet Types
What should you bet on? Darts is like every other sport. It has the same bet types used in football. The only difference is the language used to describe events. For example, you can bet on the winner of a set and not a match or the number of points scored and not necessarily goals.
In light of that information, some bet types are harder to grasp than others. Betting on outright winners, for example, is easy. You can compare two players based on their form and statistics to predict the winner.
But to predict the eventual championship winner, you'll need a bit more expertise and analysis. All the same, winning in darts isn't impossible. Consider trying several bet types to determine which one works for you the best:
Match winners
Futures
Handicaps
Totals (Most 180s)
Round winners
Propositions
5—Tips and Strategies
All forms of betting involve skills. You need tips and strategies to give you an edge over bookmakers. Of course, betting skills mean careful research to understand the many variables that affect a darts game.
For example, look at the experience when two players meet. Compare their recent records, their form, health and coaches. Then compare their strengths and weaknesses. You'll find great betting opportunities you can exploit regularly.
For beginners, you can find darts betting tips on tipster sites. Some tipsters charge you for their tips. Others give you the information free of charge. Consider doing research and then compare it with free tips.
If you're willing to spend money on good tips, go ahead and spend it. But do in depth research to ensure you're indeed receiving tips that can increase your profits.
6—In-Play Betting and Live Streaming
The best darts betting websites provide both pre-match and in-play betting. The latter is more exciting and holds potentially bigger profits. However, it also carries bigger risks. That's because you have little time to research and odds change lightning fast.
To ensure you're familiar with everything happening in a game, join betting sites with streaming apps. That way, you can watch games while also betting on them. In all fairness, it's nearly impossible to win consistently at in-play betting unless you also watch the matches.
Additionally, you need to specialize. Specializing in one game helps you put your mind into it and analyze all the data that's needed to help you win.