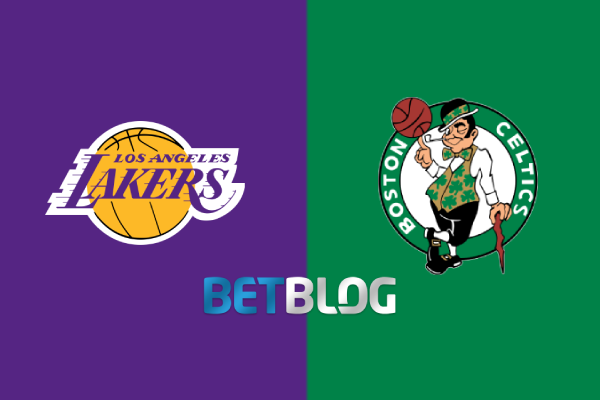 Two NBA's biggest ever rivals face off in Los Angeles as the reeling Lakers host the resurgent Boston Celtics at Staples Center!
Los Angeles Lakers
The season at this point is pretty much over for the Lakers at 30-35 and now being a lot of games behind both the Clippers and the Spurs who by the way are rolling which has essentially put the Lakers playoff hopes to bed. Lakers are absolutely reeling right now, injuries have destroyed them as they've literally now been missing Ingram, Kuzma, Lonzo, Stephenson due to those injuries. In their last game against Denver, the Lakers G-League players showed some positivity as likes of Caruso, Jonathan Williams gave them energy and helped them make a run before essentially running out of gas and losing so we may see more of G-League guys get play time for the rest of the season including tonight. LeBron James has also been put on 28-32 minutes restriction and may miss some back to backs for the reason of the season which is pretty much indicating that the Lakers have given up Playoff hope after this current 4 game losing streak. Health wise, Kuzma and Lance are questionable so it's best to wait until an official announcement before making any bets on this game. Brandon Ingram is officially OUT however and could miss the rest of the season. But as mentioned expect G-League guys to get more playing time and LeBron to be limited so a win is quite an unlikely scenario for the Lakers although in the previous meeting they surprised the Celtics when they beat them in Boston thanks to a Rondo game winner. Maybe playing their rivals will amp up the Lakers effort, but even then it's hard to see them winning given their recent play and lack of talent unless Ingram and Kuzma can go.
Injury Report
Brandon Ingram – OUT
Kyle Kuzma – Questionable
Lance Stephenson – Questionable
Tyson Chandler – OUT
Lonzo Ball – OUT
Boston Celtics
It seems like the Celtics are starting to figure it out after their 1-5 start post all star break, the Celtics have won 2 straight in Golden State and Sacramento. They beat the Warriors by 33 and then beat the Kings without Kyrie Irving. Gordon Hayward has really played well scoring 30 on the Warriors and then nailing a game winner, but it's not just Hayward. Everybody on the team have played great basketball on this road trip so far and the Celtics will be very hopeful that this road trip will finally be the defining moment for them and they get it going from now on because every other time that it looked like Boston figured it out they would take multiple steps back again. Celtics are at full strength entering this game, Kyrie Irving WILL play after missing the previous game and we should all expect him to have a big game as in his recent visits to Staples Center he's been able to put on a show plus playing against LeBron should give him and the rest of the Celtics the motivation to get revenge on last year. Expect Boston to put on a strong performance against these Lakers given that it's a rivalry with LA and LeBron, the fact that they're in good spirits and simply the fact that the Celtics are moving very close towards Indiana and Philadelphia for home court advantage seeds and that should be enough motivation for the Celtics to come to LA and get the job done. If they play with the effort they've done this whole week then the Celtics should definitely come away with a win against the Lakers.
Injury Report
There are no injuries, everyone are available to play
Betting Stats
Totals
Lakers have the NBA's worst 25% of covered total point overs at Home this season (8-1-23). The total for this game is 222 pts and it's the total that the Lakers haven't had at home this season. The closest that they've had to that was 222.5 points against the Suns which resulted with an Under in a 120-96 Lakers win.
Celtics have covered 46.9% of their total point overs on the road this season (15-17). They haven't had a 222 point total on the road before either, but the closest to that they've had was a 221.5 point total twice against Atlanta which resulted with an Under in a 96-114 win for Boston and Chicago which resulted with an Over in a 126-116 loss for Boston. 10 of last 11 Celtics road games have had an Under so they've been on a cold streaks when it comes to overs recently.
Handicaps
Lakers have covered 37.5% of their Handicaps at home this season which is one of the worst percentages in the NBA this season (12-20). Lakers are tipped 6.5 point underdogs in this game. They've not had a +6.5 Handicap at home before but have had a very close +6 Handicap once against Denver which they failed to cover losing the game 99-115. Lakers are 2-8 at covering Handicaps as home underdogs this season.
Celtics have covered 40.6% of their road Handicaps this season (13-19). They've had a -6.5 Handicap once before this season on the road against Orlando which they failed to cover in a 105-103 defeat.
Recent H2H in Los Angeles
Lakers have been able to get the best of the Celtics at home lately winning 5 of last 7 against them at Staples Center despite most of them games being with the Lakers being a rebuilding team, but it seems like when it comes to these rivalry games they do like to turn up.
Lakers won the last meeting with Boston at Staples 108-107 last season thanks to Kyle Kuzma getting hot and dropping 28 points including a bunch of 3s in the 4th. Lakers covered a +5 Handicap and total 206.5 points resulted with an Over as teams totalled 215 points.
TIP OFF – 10th March 2019 – 1:30am UK Time